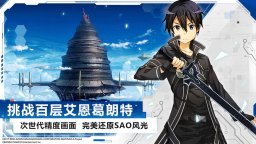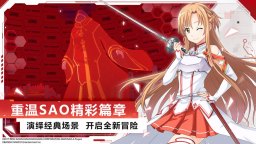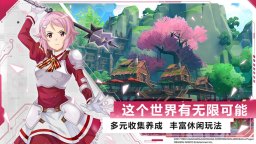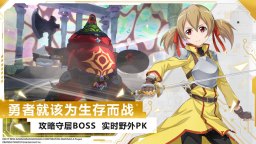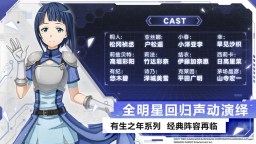 Sword Art Online Black Swordsman: Ace
刀劍神域黑衣劍士:王牌
Developer: 嗶哩嗶哩
More from the same developer More

Dead Cells | Simplified Chinese

Dead Cells | Simplified Chinese

Burst Witch

Burst Witch
Sword Art Online Black Swordsman: Ace is an open-world mobile MMORPG adapted from the Japanese light novel series Sword Art Online created by Kawahara Reki. The game was developed by the Chinese video streaming tycoon company "Bilibili" under the authorization of BANDAI Entertainment.
The background story revolves around the first-ever Full Dive virtual reality game invented based on the technology NERDLES (NERve Direct Linkage Environment System) in 2022. It allows a player to enter the world Aincrad in Sword Art Online via a device connected to the person's mind. However, for some reason, the players couldn't disconnect and leave the game before they finish it. The worst thing is that if they die in the game, the same will happen to their physical bodies in the real world.
You will be able to experience the original story from the novel and the anime in the game. The development team did a good job to remake identical geographical environments such as towns, deserts, plains, forests, and the details of the dungeons and city buildings.
To survive in a world full of challenges, one of the biggest obstacles to overcome is the bosses in the game. The various combinations of the classes, skill cards, and weapons will give you an outstanding experience in boss fights while enjoying the story that many fans may recognize.
Sword Art Online Black Swordsman: Ace is an MMORPG that perfectly restores the vibe of the series not only with the visual recreation but also with the audio. The fact that the characters' voice in the game is presented by the original voice actors from the anime may be one of the appealing elements to the fans of the series.
*The CV includes Matsuoka Yoshitsugu, Tomatsu Haruka, Ozawa Ari, Takagaki Ayahi, Taketatsu Ayana, and Rina Hikada.
1383774
#Anime #Movie #SAO #SwordArtOnline #Theme #LiSA
Earlier today, the theme song for the SAO movie that is going to release at the beginning of December was revealed. The song is performed by the popular singer LiSA, who also did the first OP for the anime series and many others.
The movie will be available in the theater for both dub and sub. Check out the official website for more details!

Sword Art Online Progressive: Aria of a Starless Night | December 3
Website: https://saop-anime.com/

1360753
#Anime #Birthday #Asuna #SAO
Today is the birthday of yet another waifu! Yuuki Asuna, also known as "Flash", is a kind and caring heroine. Watching her and Kirito's interactions in the Aincrad arc was fun, and the fact that she being a healer but always charged in with her rapier in ALO was also interesting. No wonder she is called Berserk Healer
Anyways, happy birthday to Asuna!
Loading...