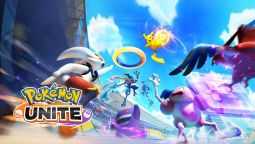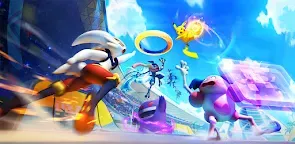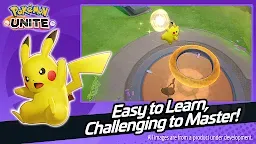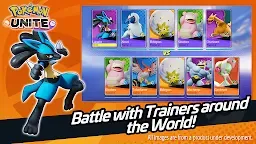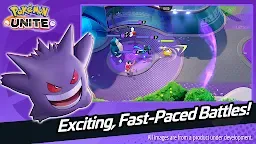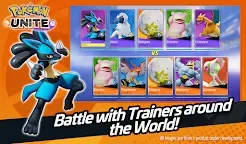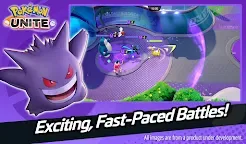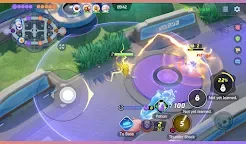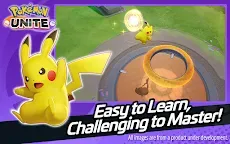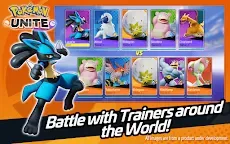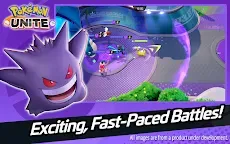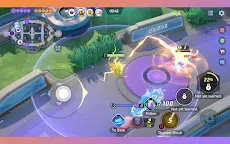 Pokemon Unite
Developer: The Pokemon Company
Pokemon Unite is a MOBA game co-developed by The Pokemon Company and TiMi Studio Group. The game is available on mobile devices and the Nintendo Switch, where cross-play between these platforms are available. In this game, players can enjoy the very first 5-on-5 online battles in the ever-popular Pokemon series. The game is free to download and play with extra features that can be purchased in-game.

The biggest objective in a Pokemon Unite battle is to outscore your opponent's team within 10 minutes of game time. Players need to collect points (which are called Aeos Energy) by defeating wild pokemon spawned on the map and carry them to the opponent's goal zone to score. Wild pokemon and goal zones are distributed on the map with two symmetrical lanes for the two teams. Players of the two teams will compete against each other on this map controlling their favorite pokemon.
The selection of pokemon before the start of each game is of paramount importance for the co-operation plays and strategies used in the battle. A large variety of pokemon is available in the game as controllable characters, such as the series mascot Pikachu, everyone's favorite starting partner Charizard and the cheeky yet powerful Genger. The Player's pokemon will start off rather weak with a basic move and then get stronger and stronger as the battle progress. Pokemon can level up to learn new moves or even evolve after gaining enough EXP in the battle. In addition, you can buy held items to strengthen your pokemon's abilities or dress up your pokemon with different decorative items with the in-game currencies. Just like a proper pokemon trainer, you can play with your favorite pokemon and unleash their unlimited potential to clinch victories!
To prove yourself as the best pokemon trainer on the global stage, you should definitely check out the ranked matches in Pokemon Unite. When you win a Unite Battle, you can earn points in your ranking to climb up the leaderboard. There is going to be fierce competition for the top spots on the leaderboard, so get ready for the severe yet extremely riveting challenges standing in your way to becoming the Pokemon Master!
Official Website: http://PokemonUNITE.com/
Official Twitter: https://twitter.com/PokemonUNITE/
---Below is the information provided by the developer---
Pokémon's first 5-on-5 strategic team battle game is now available for preregistration on mobile! Preregister now for your chance to receive special rewards, including the Festival Style: Pikachu Holowear!*





Pokémon UNITE:
Team up and take down the opposition in Pokémon's first 5-on-5 strategic team battle game!

Join Trainers from around the world as they head for Aeos Island to compete in Unite Battles! In Unite Battles, Trainers face off in 5-on-5 team battles to see who can score the most points within the allotted time. Teamwork is key as you and your teammates defeat wild Pokémon, level up, evolve your own Pokémon, and work to prevent the opposing team from scoring points. Put your teamwork to the test, and take home the win!



[If the game freezes or shows a black screen, please try to uninstall the game and re-download it.]





Key Features:
BATTLE IN STYLE: Take to the field while looking your best in Holowear! Thanks to a special technology developed using Aeos energy, Trainers can deck out their Pokémon in a variety of holographic outfits—with new styles arriving regularly!

UNITE MOVES: Unleash the true power of your Pokémon with Unite Moves! Leverage these all-new Pokémon moves, which are only possible while in Unite Battles, and turn the tide of even the direst situations.

RANK UP: Looking to prove how skilled you are? Participate in ranked matches, and earn points as you climb up the global leaderboard!

COMMUNICATION IS KEY: Even the most skilled Trainers recognize how important communication is to their team's success. Leverage signals, quick-chat messages, and—for the first time in a Pokémon title—voice chat to communicate and stay in sync with your team.

CROSS-PLATFORM PLAY: Challenge Trainers from around the world to Unite Battles on the Nintendo SwitchTM system or on a compatible mobile device thanks to cross-platform support. Trainers may use their Pokémon Trainer Club account or Nintendo Account on both Nintendo Switch and mobile to easily keep their progress synced between devices.

Preregistration Campaign:
Players who log into the mobile version of Pokémon UNITE by October 31, 2021, can receive in-game items in celebration of the mobile launch!* Items awarded will be based on the total number of players who preregister for the mobile version of Pokémon UNITE, including the Festival Style: Pikachu Holowear if over five million players preregister.

Check out the official website for more information, and follow Pokémon UNITE on Twitter for all the latest news.
------------------------------------------------------------
Official Website: http://PokemonUNITE.com/
Official Twitter: https://twitter.com/PokemonUNITE/

*Players must complete the log-in event in the mobile version by 14:59 UTC on October 31, 2021, to claim rewards. Once received, rewards will be linked to the player's Pokémon UNITE account and available for use across all versions of the game.

Legal:
This is a free-to-start game; optional in-game purchases available. Data charges may apply.
An internet connection is required to play the game.
1683951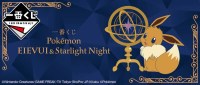 #Pokemon #Eevee #IchibanKuji
Pokemon is having an Eevee-themed Ichiban Kuji released! If you are not familiar with this kind of lottery form merchandise, let me explain a little. Ichiban Kuji is a type of product that is usually applied to collectible merchandise in Japan. You basically do a lucky draw from a pool and see what item you get. Different from some zero-sum raffles, with every draw, there's always a matching prize.

1626243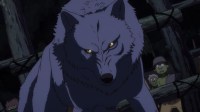 #CreateAPokemon
I think the Direwolves from Tensura are very suitable to be pokemon! They also have Tempest wolf and Star wolf forms as higher rank evolutions
Loading...