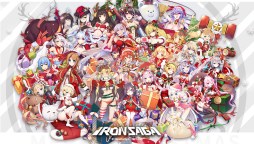 Iron Saga - Battle Mecha | English
Iron Saga - Battle Mecha
Developer: Gameduchy
☞ Other Version(s): Simplified Chinese | Japanese | Traditional Chinese | Korean
Iron Saga - Battle Mecha is an anime game.

ACE commanders, assemble! 500+ Mechas and Pilots, 100,000 possible formations! Diverse game modes, smooth battle experiences and dazzling skills that will mesmerize you without fail! Let your blood boil with passion and experience the non-stop fun! Treat yourself to gameplay like never before in Iron Saga!
— PROLOGUE
The world was once engulfed in a sea of flames caused by twelve battle mechas, later called the 'Grand Gods'.
Fast forward centuries, and the war is but a legend forgotten by time – it is a memory that humanity can barely recall. But then, the emergence of "Battle Mechs" suddenly jolts the entire world awake. Forces of all manner and kind conspire in the shadows, all eager to lay their hands on this world-destroying technology – and they will rekindle the fires of war among the world's armies, mercenaries and bounty hunters to get it.
Meanwhile, ACE pilots from all over the world are scrambling to assemble. The legend of the Battle Mecha begins now!
— UNIQUE CONTROLS: YOUR SKILL MATTERS
Maneuver your mechas in real-time with our unique real-time battle system. Control the outcome of the battle at your fingertips! From micro controls to all-out guns blazing, from dodging lethal hits to striking an enemy's weakness at the right time – every single command counts on the ever-changing battlefield.
— OVER 100,000+ POSSIBLE MECHA & PILOT COMBINATIONS
Customize your own teams from over 500+ mechas and pilots. Pick from amazing humanoid Mechas and gorgeously-drawn pilots for a battle setup that is yours and yours alone!
— MULTIPLE GAME MODES, FRANTIC CORPS CONFLICTS
Completed story mode? Check out the Arena, Combat Simulation, Rocket Pack, Amazing Race, Card Games, Corps Conflicts and much more! Keep your blasters locked and loaded for non-stop firefights!
— 100+ EPIC PILOTS WITH DIVERSE SKINS
Get to know the 100+ Pilots, all unique in personality and dressed to kill. Our unique BGM system ensures an audio-visual feast when you change pilot skins!
— PERFECT PRODUCTION TEAM, ICONIC OST & GRAPHICS
100+ distinguished artists and legendary composers bring to you a flurry of artistic perfection for your eyes and ears!
Bursting with love for Iron Saga? Don't hesitate to follow us!
Official Website: http://ironsaga.com/
Twitter: https://twitter.com/IronsagaEN
Facebook: https://www.facebook.com/Ironsaga.en
Discord: https://discord.gg/bVk4HyV
We would love to hear from you! Contact us at en@ironsaga.com
Game Duchy
Seize the free time
484944
as a Veteran in JP, this game is friendly for F2P players HOWEVER PATIENCE IS NEEDED (especially for those who said "This game isn't F2P friendly"). SSS units are mostly for Late-Game playing where their skills and or Stats are necessary for taking on tougher enemies.

not to mention the parts, even a Fully Upgraded SSS units can be defeated by Underleved / Un-Synchronized Parts. higher rarity parts cost more coins for upgrading.

BUT the key points of playing the game is HOW YOU ADAPT. because sometimes one type of formation won't work on all enemies (like using melle based team to fight self destruct enemies is a bad move (unless you're lucky)).

Coin Merchant and Black Market can provide you fragments for your desired units, and more importantly..... allows you to TEST it (THIS IS THE IMPORTANT PART OF THE GAME).

You'll get Free Premium Banner 1 Pulls every 48 Hours and a Regular Pulls every 24 Hours. You'll get a Guaranteed S or above units every 10th Pulls on the Premium Banner(s) (there's more than 1 Premium Banner). Each Premium Pulls will give you a special alloy, you can exchange them for in the exchange section (this can be counted as a mercy system), including Badges (Sun for SSS Unit, Moon For Parts), Pet Sphere, Solar Medal (Top Tier SSS Units) make sure you don't regret it afterwards.

you can get along with a pilot in the bar, give him / her drinks, Meals every Lunch and Dinner, and Gifts to raise affinity, pilots with 60 and above Affinity can be recuirted. premium drinks (which costs diamonds) with higher cost provide more affinity. a 180 Diamond Cost Drink will provide 20 Affinity.

Arena can test your luck based on your formation, you can get Diamonds if you win here (and got lucky). however your opponent will be based on your level (arena Tier). your rank will reflect on how much your Welfare (Daily Diamond Salary) get.

Every Weekends there will be a brawl arena where you'll fight other players using 4 Random units from the game, each of their rarity may different, but you're given options to choose 1 among three provided units + 3 provided pilots + 5 provided parts + 3 provided Pets. REMEMBER TO READ the effects / Description / Pilot Profile because the provided things are based on luck.

if you need coins, you can go to Guessing Arena in Arcade section, not only providing you with coins, it's also testing you knowledge on the game units. The Rocket Test can provide EXP pills for your pilots, if you're good at Flappy Bird, you'll easily get plenty of EXP Pills (or even the top chart). Race is purely based on skills and your vehicle unit's speed, only top chart results that provide reward for you.

there's also 2 different Time Limited mini game in Arcade section. which is Crane Game and Guess the pilot.

Crane game, as it's name says is purely on your skills to get your prize, and luck to hit a jackpot which are :
1. +100 Affinity to a Pilot (free Recuirtment if you don't have him / her)
2. Diamonds
3. Free Premium Banner 1 Pull Tickets
4. Top Tier SSS units fragments (Possibly Solar Wings Units).
The Crane event has ended (on the date this note published), but will have a rerun with different Pilot Prize

Guess the pilot (Active on the date this note published) tests your knowledge of the in-game pilots, you just simply listen to a pilot's voice and guess whose voice was it. got it correctly and you'll get their Affection Gifts + other rewards, Faster Reaction gives better Rewards.

battle pass system wil provide rewards for the hard working players, upgrade if you want more.
some battle pass came along with a certain event.

speaking of events...... don't hesitate to spend your time to get it's rewards ONLY IF YOU REALLY WANT IT. you'll get plenty of stamina potios as you progress in the game, and only you knows when to spend it.

Personally Recommend Events :
1. Rhrine Event. Came along with a event exclusive Battle Pass. Works Hard and you'll get enough unit fragments for upgrading to max stars.

2. Shamash's Event (ongoing in JP Ver)

3. Zeorymer Collab Event
Loading...