Star Girl Fashion: CocoPPa Play
Developer: UNITED, Inc.
[[Main Function of CocoPPa Play]]
●Create Your Avatars
You can choose combinations of 15 item parts, such as hairstyles, face accessories, skin colors and of course, outfits.
Also, you will get various "Posing" items by getting higher level.
●Customize Your Show
You can organize your avatar as "My Model" in shows.
In the show, you can add up to 3 models. You can set not only your models, but your friend's models as well.
You can also create your original show by setting stage set or decor item.
●Share with Everybody
Cheers people's shows and post a message as well as decorating your show. You will be able to get free outfits by exchanging points you get by cheering for shows.
Make many friends and you can invite them to your shows!
●Connect To CocoPPa
After you have connected your CocoPPa account ID, you will be able to set your avatar picture in CocoPPa My Page. You can also use the avatar picture for the CocoPPa icon.
●Care For Sheep & Get Outfits
There are many unique sheep in the "Farm".
Care for sheep, find and shear new sheep. You will get free outfits.
●Try Quests & Get Amenities
Complete daily quests, help for unique app characters! And you will get free useful items to decorate your shows.

2080146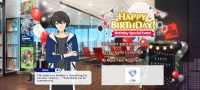 #GameRantsandStuff #EverythingStars

Happy birthday to the sleepy widdle kitty of Knights, Ritsu! Keep on catnapping because sleep is power! Don't believe them when they say sleep is for the weak!

Loading...