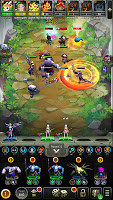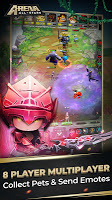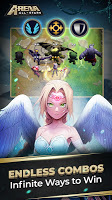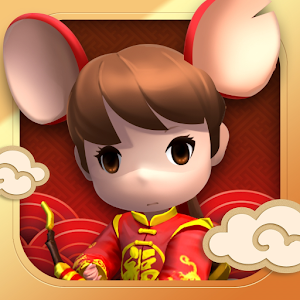 Arena Allstars
Arena Allstars
Developer: Match Set Games
Arena Allstars is a strategy developed by Match Set Games.
Arena Allstars is a turn-based strategy game where you compete with up to seven opponents in an epic real-time battle. If you are looking for a quick matchup, choose Team Co-Op Mode and take down your opponents in less than 10 minutes. Draft your team, execute top-level strategies and strive to be the last person standing! Compete in the monthly tournaments to earn rewards and ascend the ranks in Arena Allstars.
AUTOBATTLER OPTIMIZED FOR MOBILE
Arena Allstars adapts your favorite auto battler features and improves your mobile gaming experience in a couple of ways: (1) fast-paced action and shorter game rounds, (2) vertical orientation screen, (3) bigger characters/icons, and (4) optimized user interface and controls.
MONTHLY TOURNAMENTS
Each month, compete with players around the world to earn the top spots on the leaderboard and win in-game loot and bragging rights. Collect trophies and gold as you ascend the ranks in Arena Allstars.
BUILD YOUR ALLSTAR TEAM & COLLECT PETS
Select from a unique cast of champions differentiated by abilities, race, and class. There are billions of different combinations providing infinite replay value and a new game each time you play. Have fun growing your pet collection and use them to emote with other players!
FEATURES
• Solo Free-for-All Mode: Compete with up to 7 players in a real-time multiplayer auto battler game
• Team Co-Op Mode: Ally yourself with a partner and lay waste to your competition in less than 10 minutes
• Practice Mode: Perfect your new strategies and team compositions and train with bots in Practice Mode
• Endless Mode (COMING SOON): Go on an epic campaign completing missions defeating bosses and earning loot along the way.
• Use your pets to emote with other players, and grow your collection
• Draft from a shared pool of unique and powerful champions differentiated by abilities, race, and class
• Compete in Monthly Tournaments to see who earns the top spot in the global leaderboards
Support: https://discord.gg/VATFZQt
Terms of Service: https://www.arenaallstars.com/terms
Privacy Policy: https://www.arenaallstars.com/policy
PLEASE NOTE
Arena Allstars is free to download and play, however, some game elements may require in-app purchases. If you do not want to allow in-app purchases, please disable this feature in your device's settings. Also, this app is intended for an audience over 13 years old as indicated in our Terms of Service and Privacy Policy.
Loading...