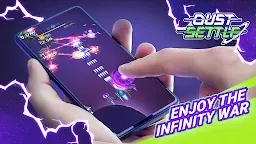 Dust Settle 3D - Infinity Shooting
Dust Settle 3D - Infinity Shooting
Developer: zhenrongbin
Dust Settle 3D - Infinity Shooting is a free space shooter game. With your fingertip to destroy all sorts of dust. Don't be hit by galaxy dust. Remember to develop your space ship, collet coins to build your sky force.
The galaxy is filled with space invaders of varying types. The space war is on the verge. Falcon is gathering the space team. They are hindering the advancement of galaxy enemies.
"Shoot 'em up! Upgrade your squad with different weapons and blast through swarms of enemies! "
Dust Settle is a chicken game with many adventures:
- Various type of Dust: Normal Dust, Elite Dust, Mini Boss, Super Boss.
- Various type of 3d space ships: Every ship has individual skill. With the upgrade ship can unlock more powerful skills.
- Exciting Weapons Mode: Get different attack power through different props. Sometimes get fire support from another aircraft,sometimes get super firepower props to help you destroy all enemies in an instant.
- Friendly advice: Don't touch the red props, he will help the enemy to be more difficult to destroy.
- No Pay to Win: The game is balanced so that you can played and be stronger day by day. No pay to win, but spend a bit could save your time to go further.
- Beautiful visual experience: Realistic 3D spaceship and gorgeous explosion effect to take you back to galactica time.
❓How to play❓
Swipe your finger to move your spaceship to kill all enemies.
Collect items and gold to upgrade your weapons.
The galaxy is full of potential crises and needs you help! Choose your spaceship
to guarding the peace of Galaxy!
Motive, easy and engaging gameplay. Destroy space dust anywhere and anytime; get the most fun out of your breaks!
✊Be a member of avenger shooters!
✊Show out your power!
Enjoy the 3D infinity war totally for free!
Enjoy the endless battles in the perfect air combat classic game!
Let us be the guardian of the Galaxy and fight with the dust for three thousand rounds!
Loading...