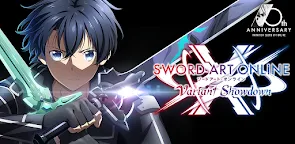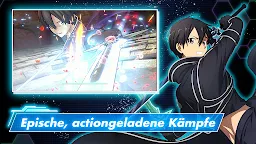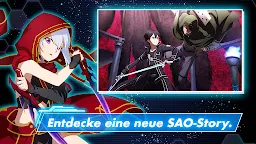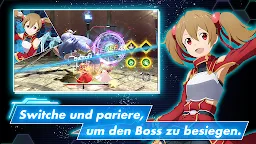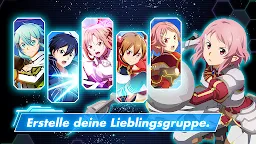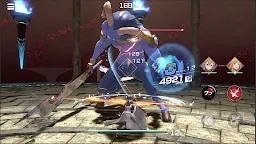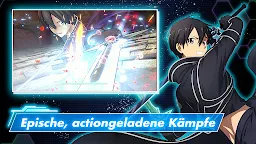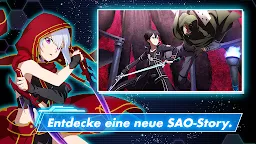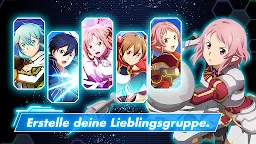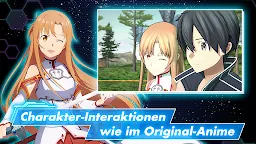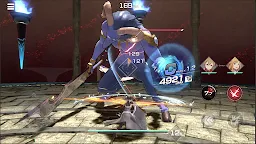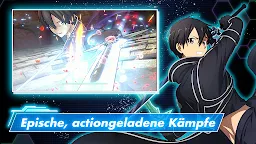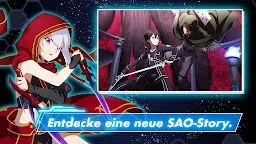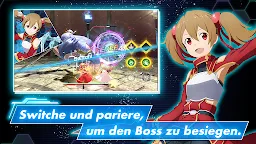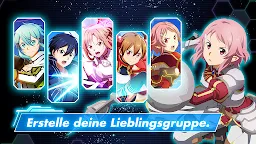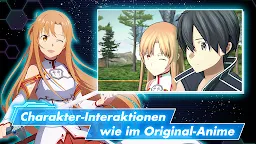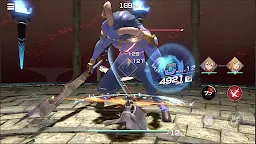 Sword Art Online VS | Global
Sword Art Online VS
Developer: BANDAI NAMCO Entertainment Inc.
[Google Play checks for the download source for this game. As such, the game only runs properly when downloaded from Google Play. Due to this, QooApp will not provide a download link for this game.]
☞ Other Version(s): Japanese
Die neue App "Sword Art Online Variant Showdown" zur Feier des 10-jährigen Jubiläums des SAO-Anime ist endlich da!
Als Kirito und seine Freunde von einem neuen Spiel namens "Cross Edge" hören, das Gerüchten zufolge Gedächtnisverlust verursacht, wenn man gegen einen mysteriösen Spieler verliert, machen sie sich auf den Weg, um dem nachzugehen.
Doch während den Ermittlungen werden sie von jemandem überraschend angegriffen...
Steuer Charaktere aus dem Anime wie Kirito und Asuna in wilden 3D-Kämpfen.
Hast du das Zeug dazu, mächtige Bosse wie The Gleameyes zu besiegen?
Über Sword Art Online Variant Showdown:
EINZIGARTIGES SAO-KAMPFSYSTEM
Nutze die verschiedenen Sword Skills deines Charakters und switche zwischen Offensive und Defensive, um Bosse zu besiegen.
Wehre gegnerische Spezialangriffe mit Parieren ab. Erwecke deinen Charakter und erledige Feinde in einem Zug.
ORIGINELLE ANIME-STORYLINE
In der Welt von Cross Edge, einem VR-Actionspiel, das von einem Genie aus der Mittelstufe entwickelt wurde, erlebst du eine brandneue Geschichte mit Kirito und seinen Freunden.
Und wer ist eigentlich dieser neue, originelle Charakter Layla?
STELLE DEINE IDEALE GRUPPE ZUSAMMEN
Wähle 3 Charaktere, die du aus SAO kennst, und erstelle eine Gruppe!
Jeder Charakter hat seine eigenen Spezialtechniken und Skills, also bilde Gruppen, die die schwachen Attribute deiner Gegner ausnutzen.
POWER-UP FÜR DEINE CHARAKTERE
Rüste deine Charaktere mit Fähigkeiten-Karten aus, um ihre Macht zu erhöhen!
Steigere deine Stärken oder mindere deine Schwächen! Kombiniere Karten strategisch, um die ultimative Gruppe zu bilden!
ANPASSBARE CHARAKTERE MIT TONNENWEISE VARIATIONEN
Passe die Charaktere nach deinen Wünschen an, indem du sie mit verschiedenen Accessoires ausstattest oder die Farbe ihres Outfits änderst.
Außerdem kannst du bestimmte Charaktere zu deiner Gruppe hinzufügen, um spezielle Interaktionen zu sehen, die man nur in SAOVS zu sehen bekommt!
Bist du also bereit für dein neuestes SAO-Abenteuer?!
Werte Spieler, nehmt eure Schwerter!
SUPPORT:
https://bnfaq.channel.or.jp/title/2907
Bandai Namco Entertainment Inc. Website:
https://bandainamcoent.co.jp/english/
Mit dem Herunterladen oder Installieren dieser Anwendung erklären Sie sich mit den Servicebedingungen von Bandai Namco Entertainment einverstanden
Servicebedingungen:
https://legal.bandainamcoent.co.jp/terms/
Datenschutzerklärung:
https://legal.bandainamcoent.co.jp/privacy/
Hinweis:
Dieses Spiel enthält einige Gegenstände, die über In-App Purchase zugekauft werden können und die das Spielerlebnis verbessern und Ihren Fortschritt beschleunigen können. In-App Käufe können in den Einstellungen Ihres Geräts deaktiviert werden; genauere Einzelheiten siehe https://support.google.com/googleplay/answer/1626831?hl=de
©2020 REKI KAWAHARA/KADOKAWA CORPORATION/SAO-P Project
©Bandai Namco Entertainment Inc.
This application is distributed under the official rights from the license holder.
Loading...