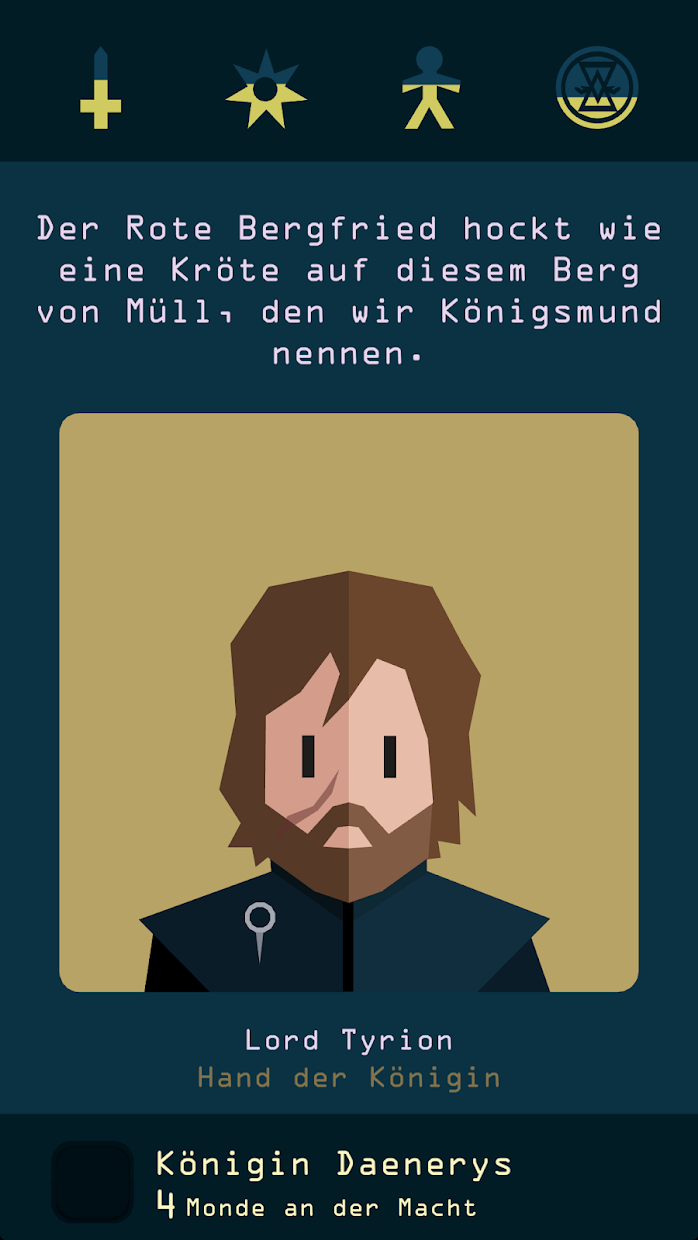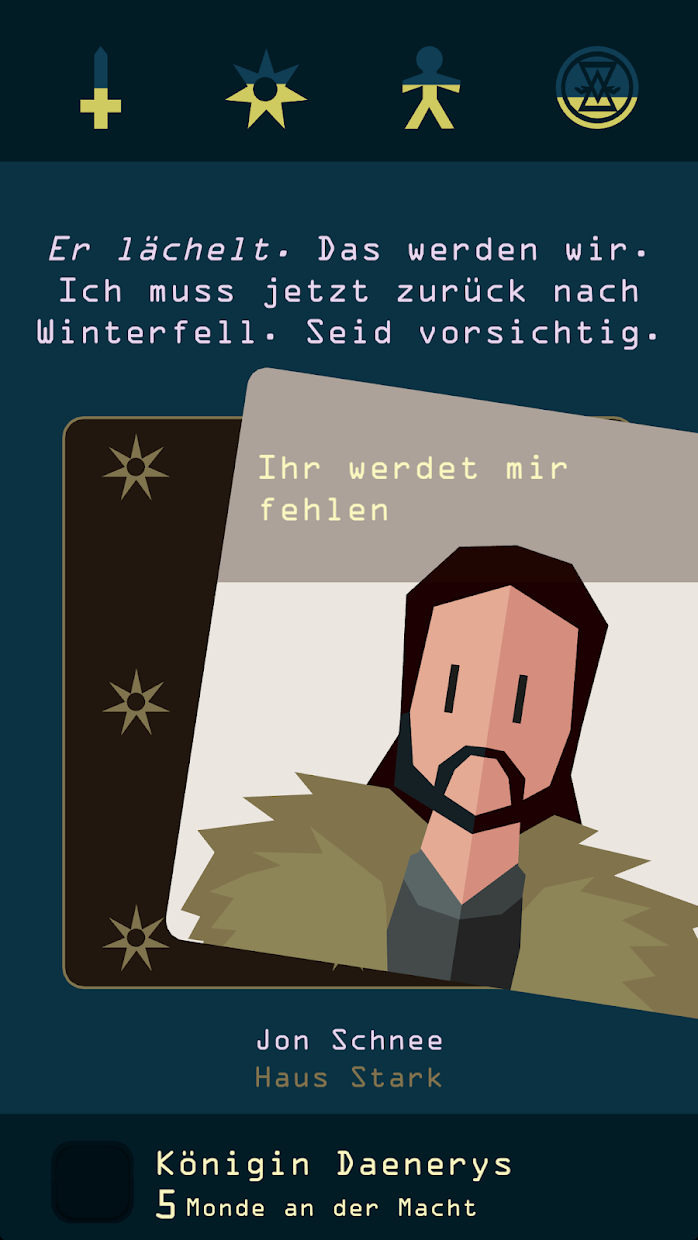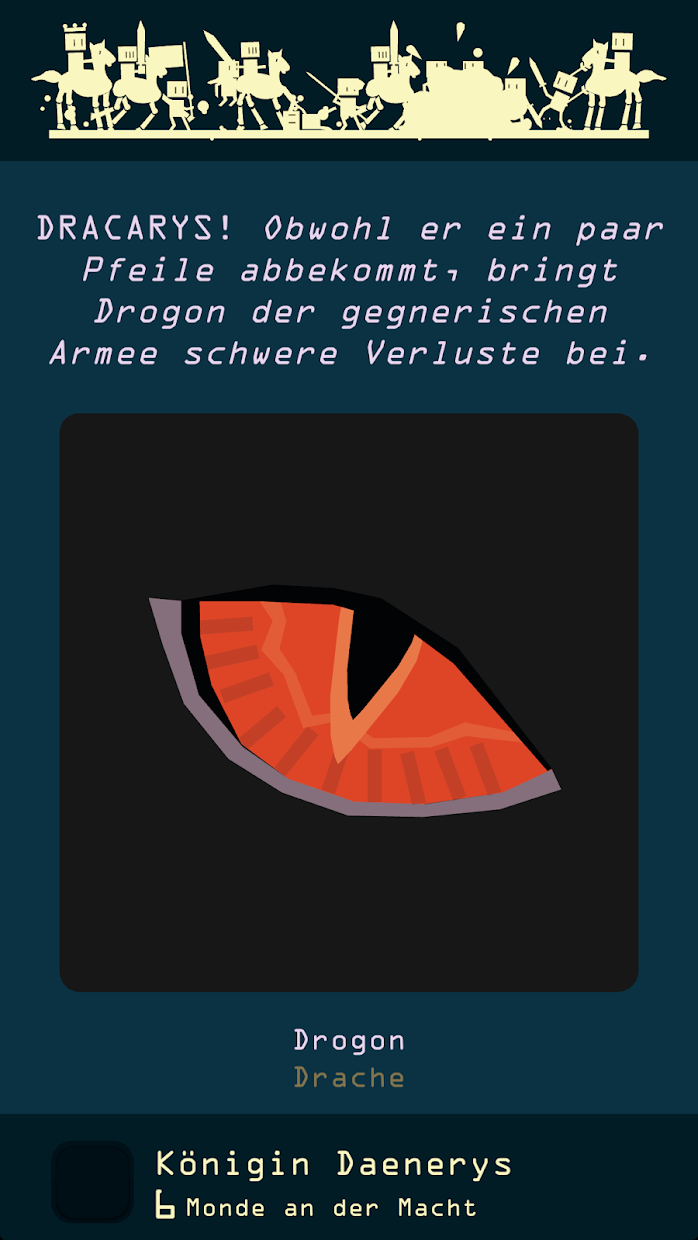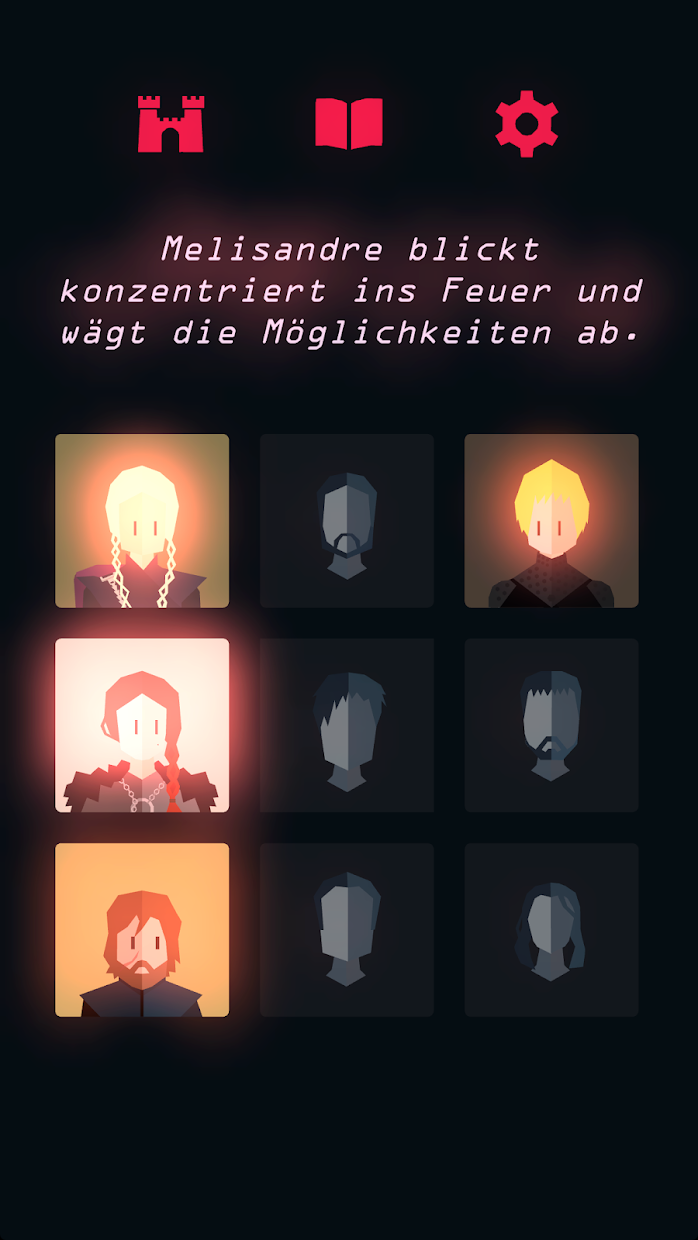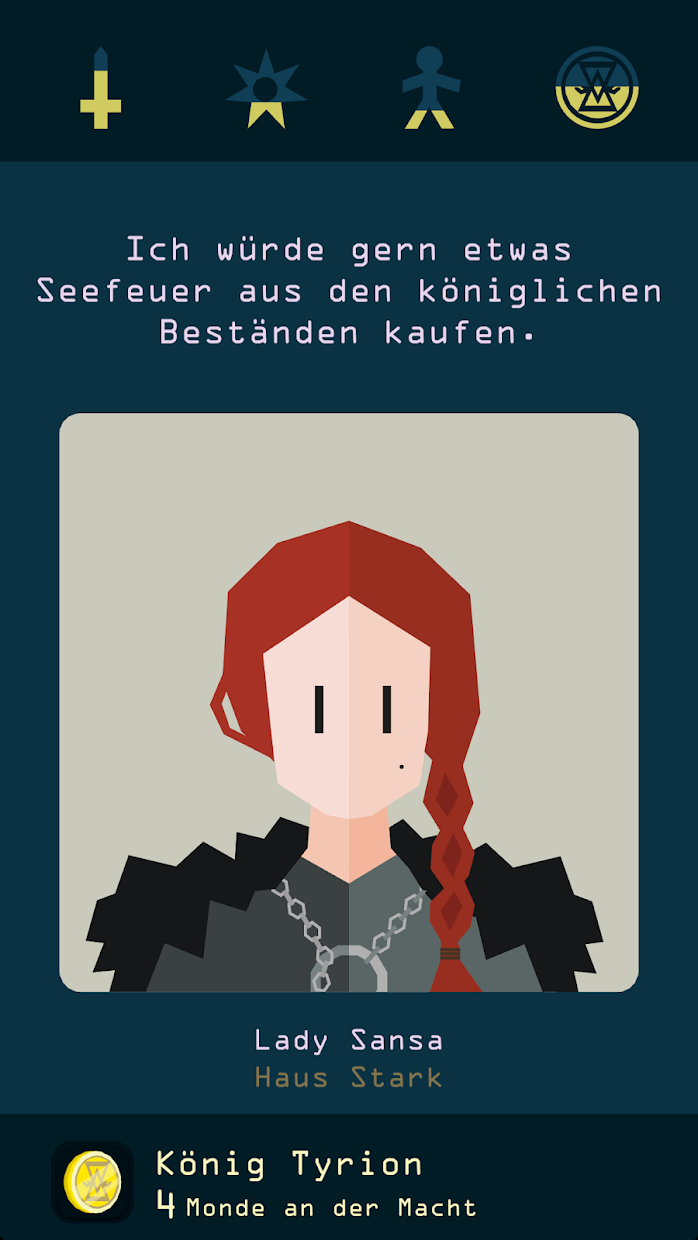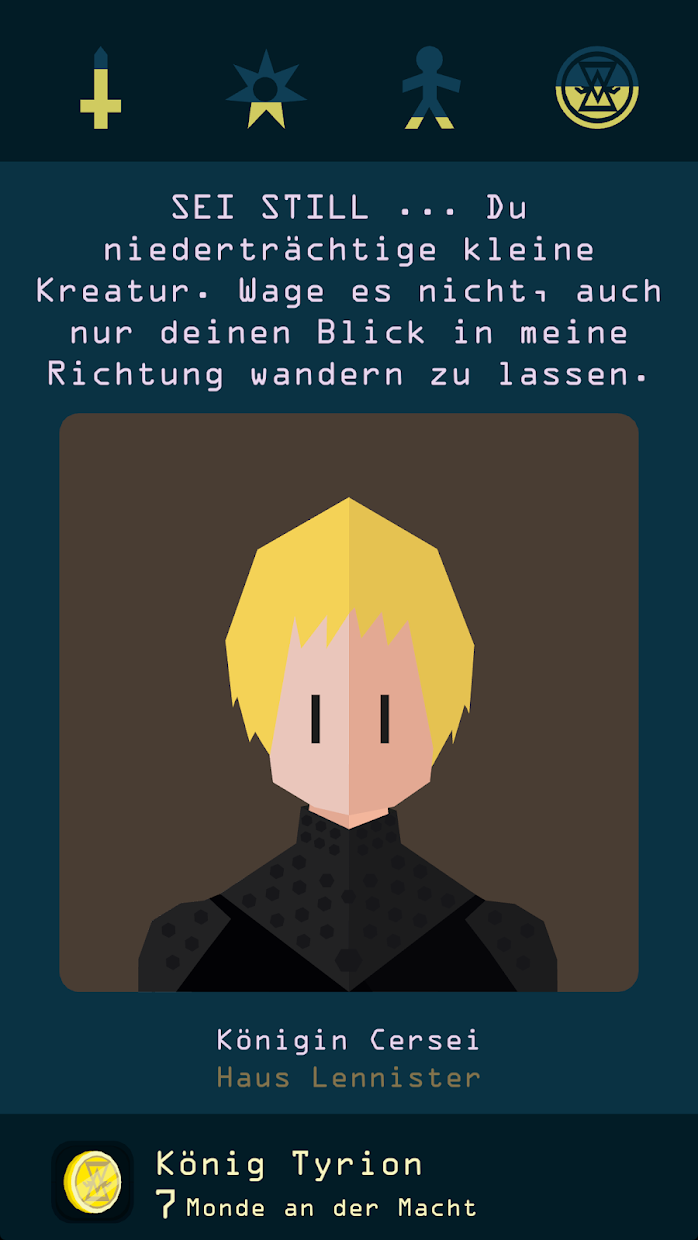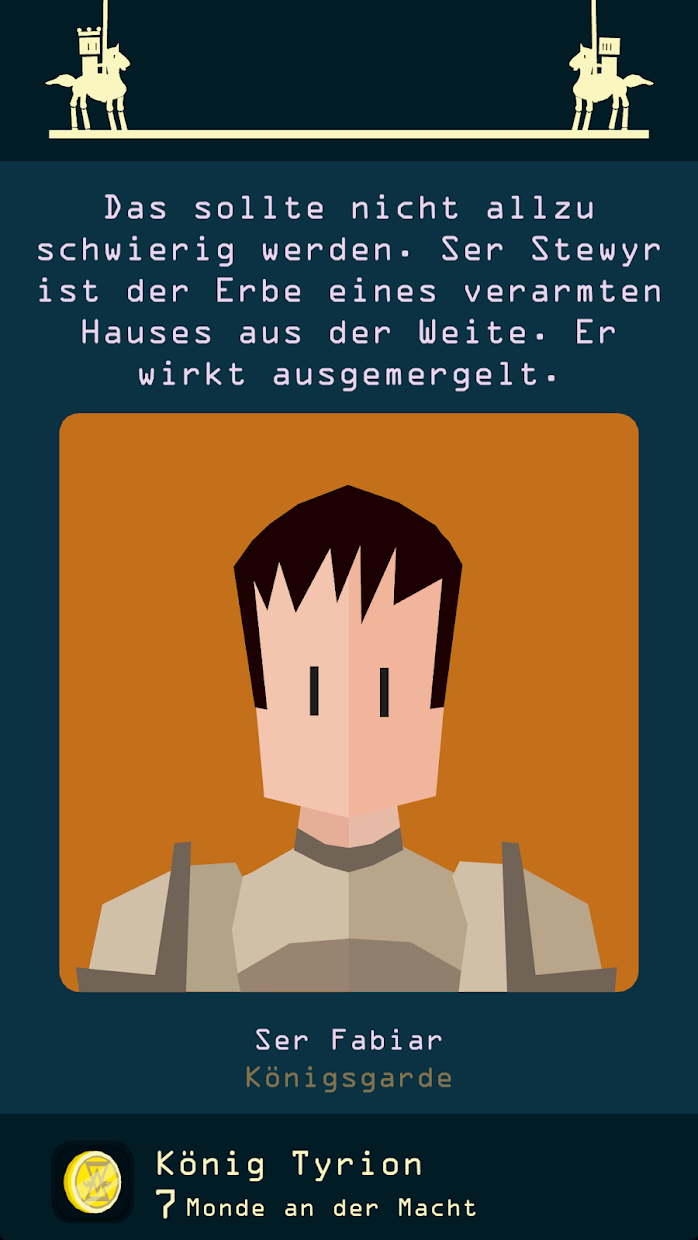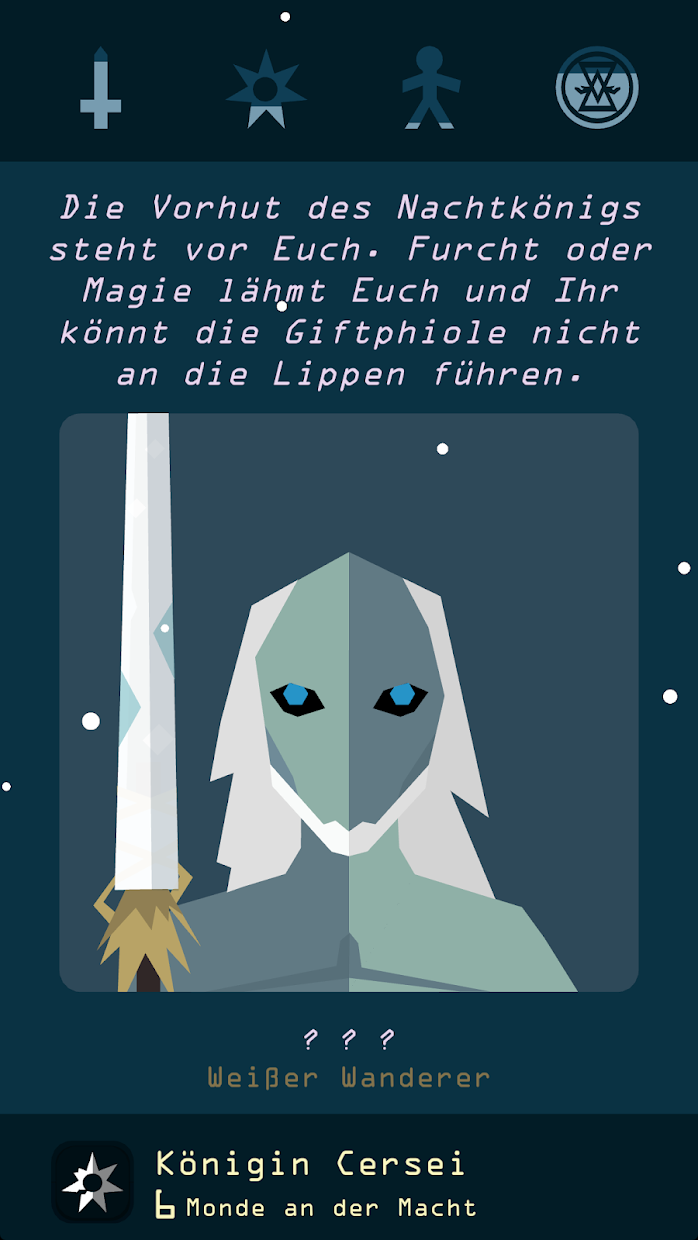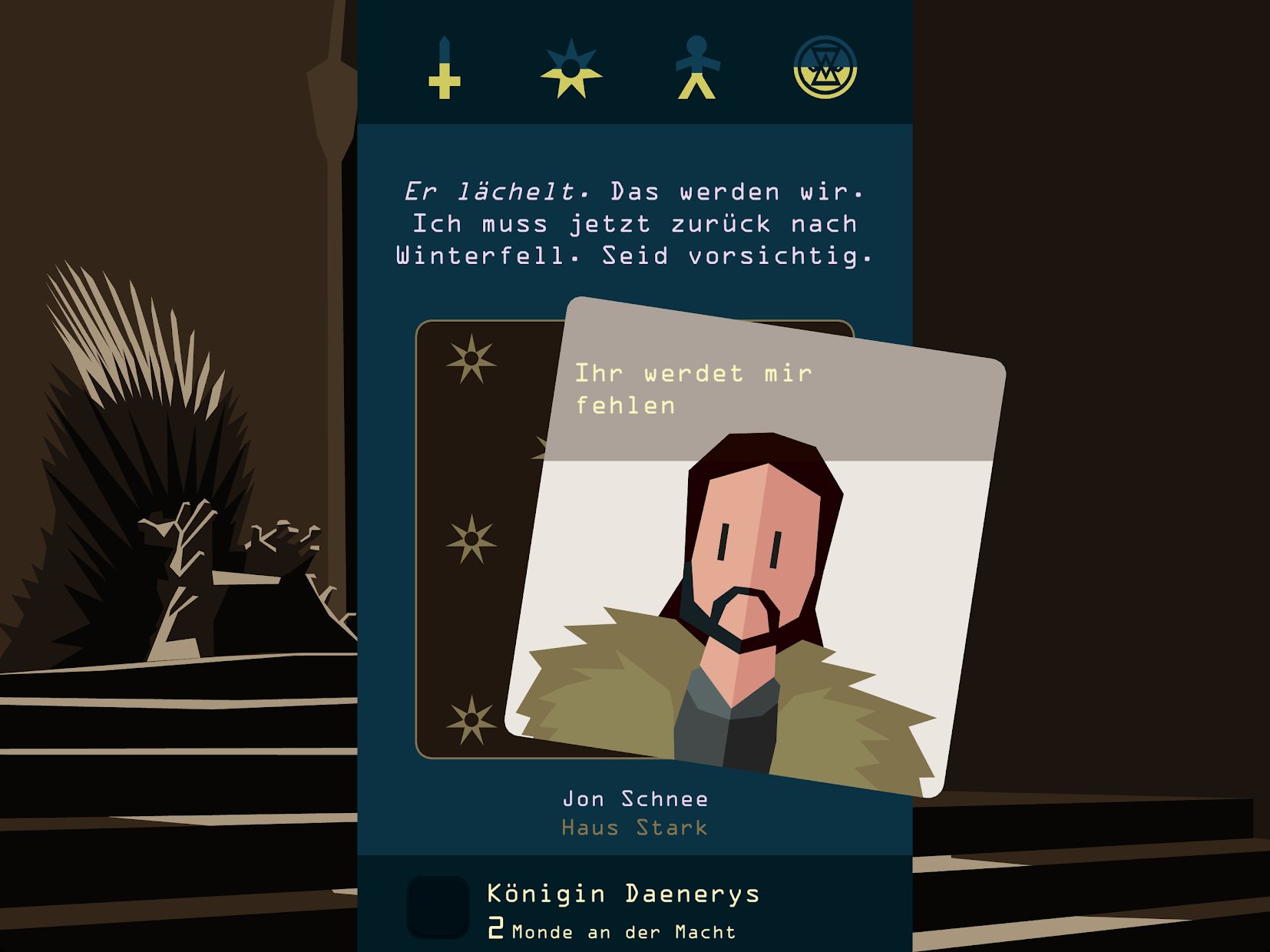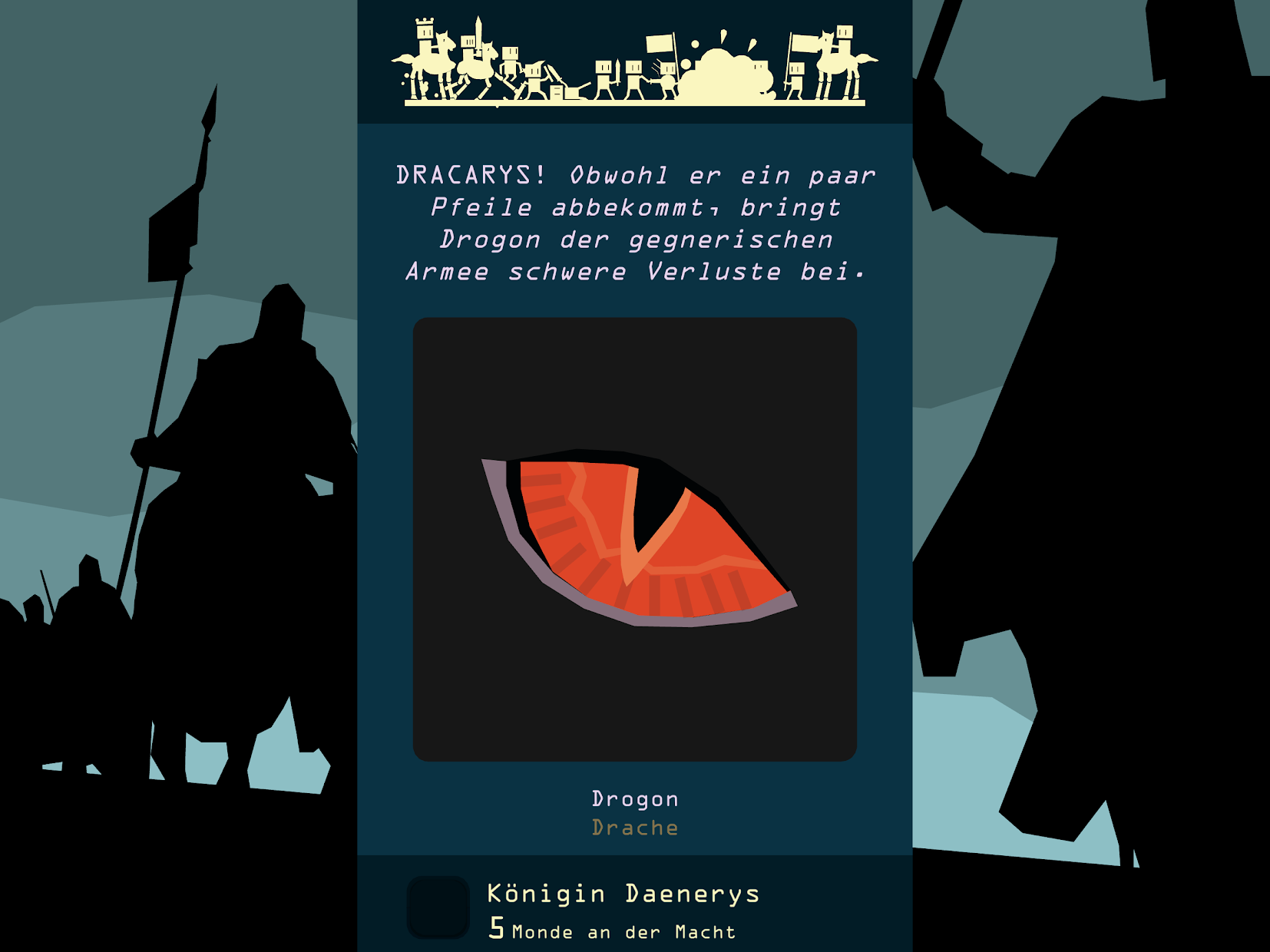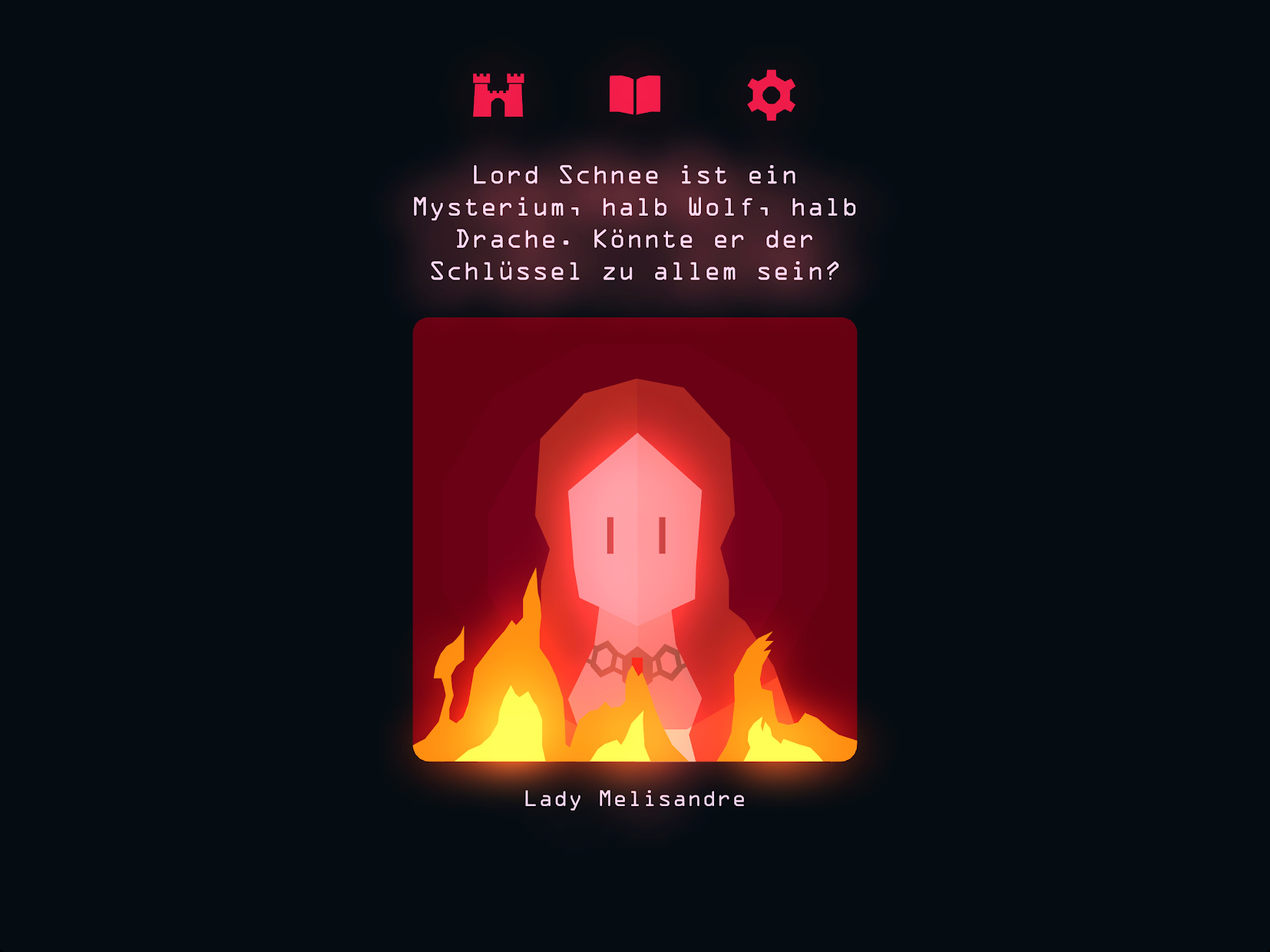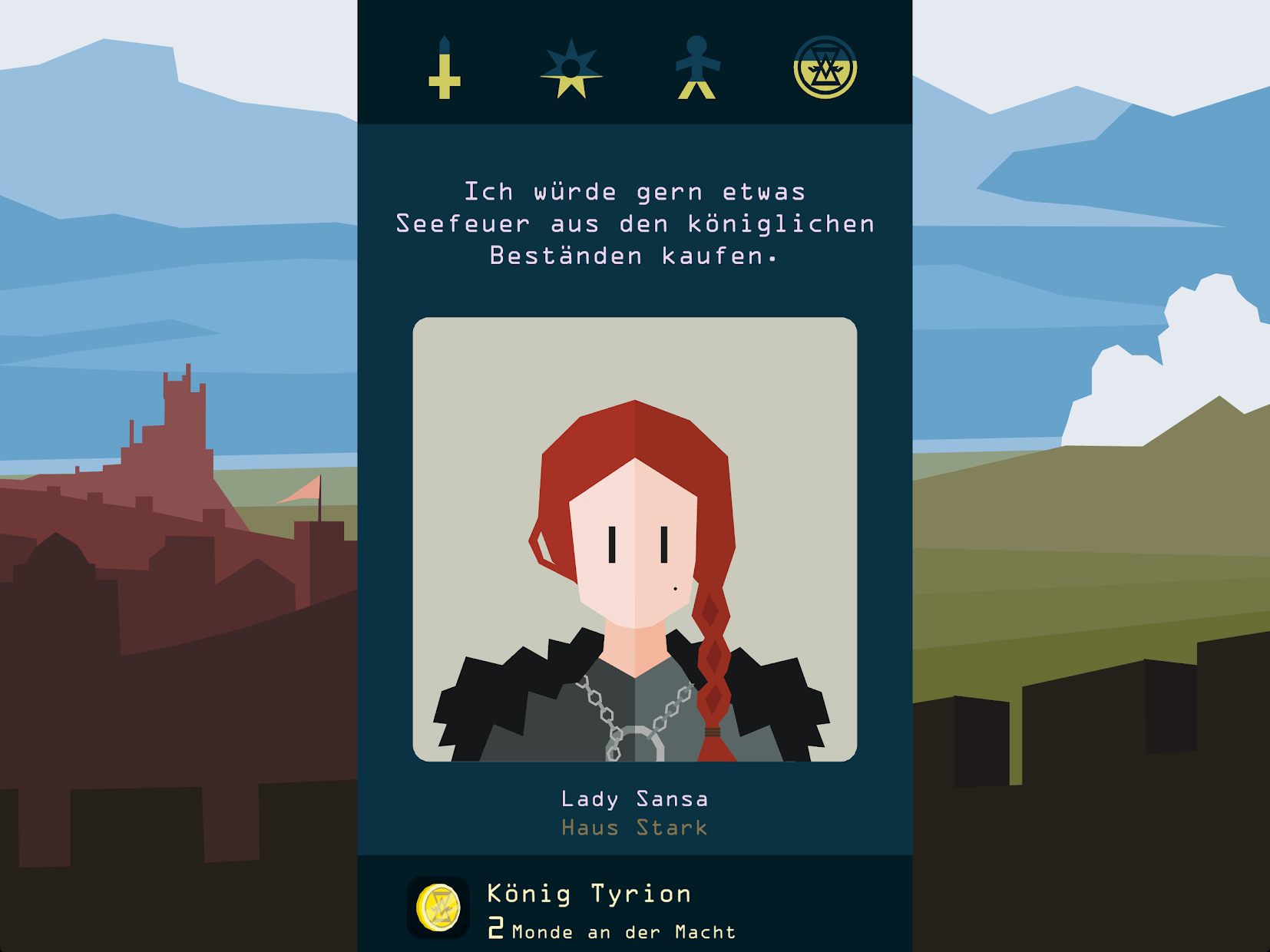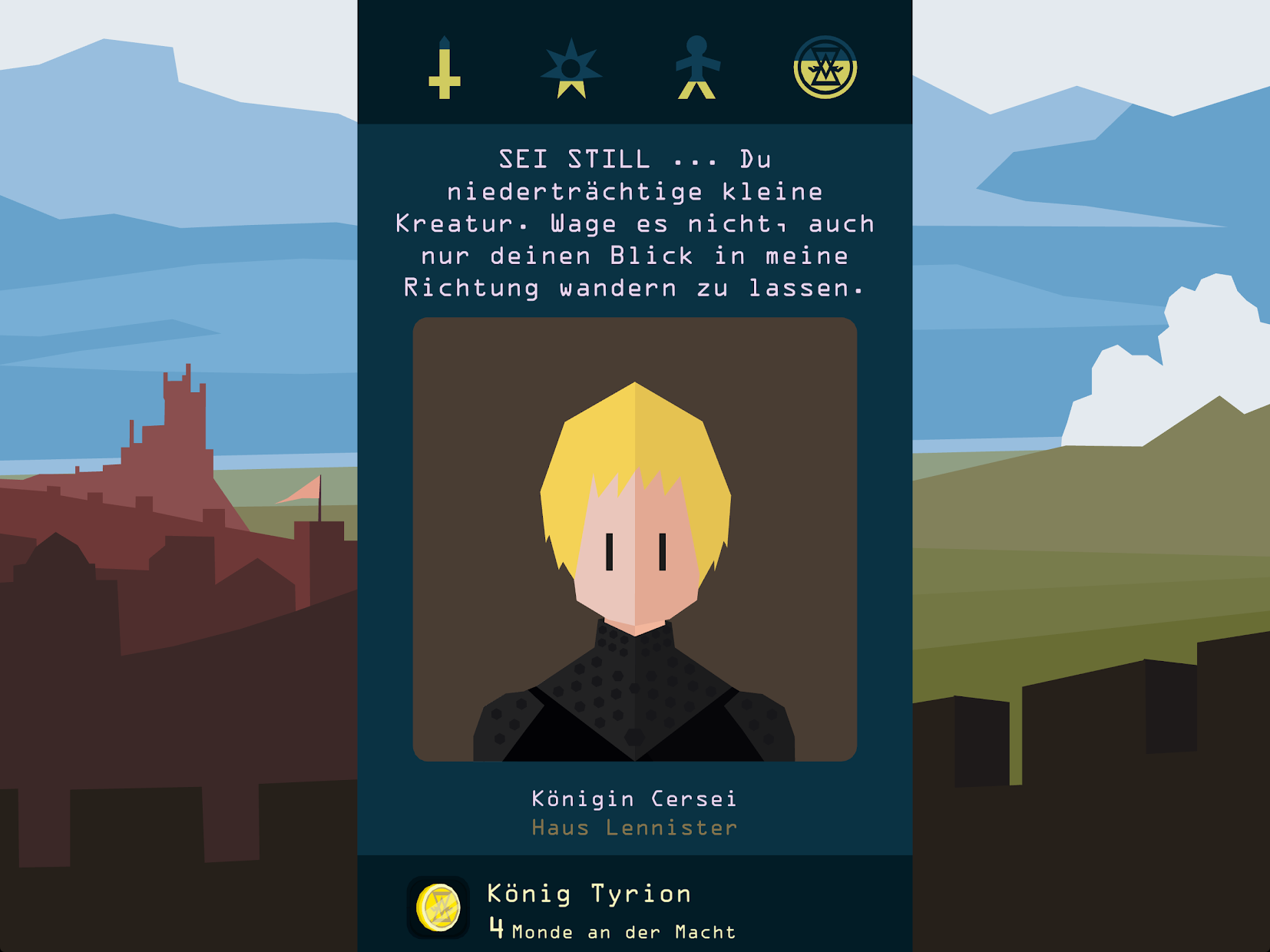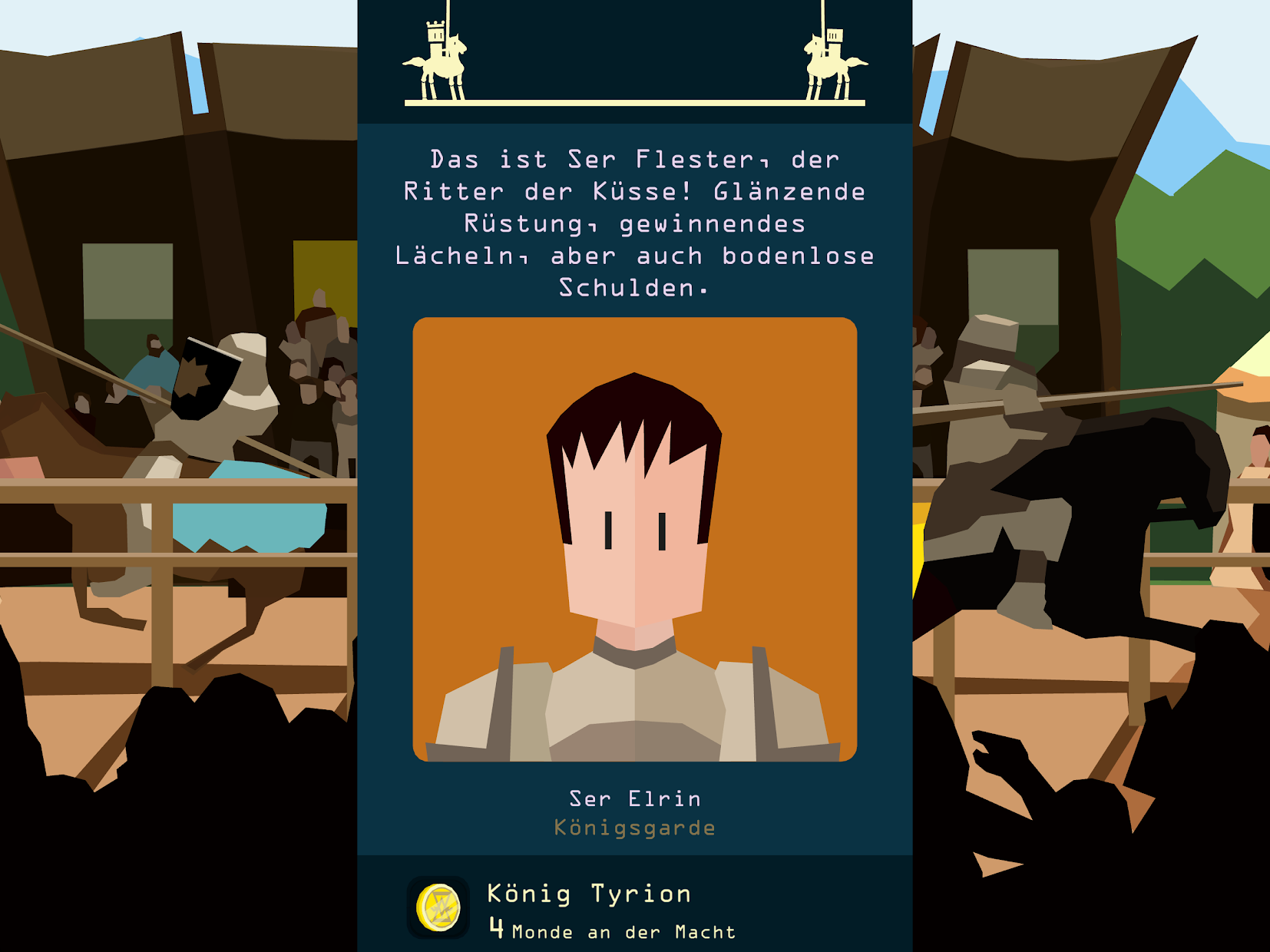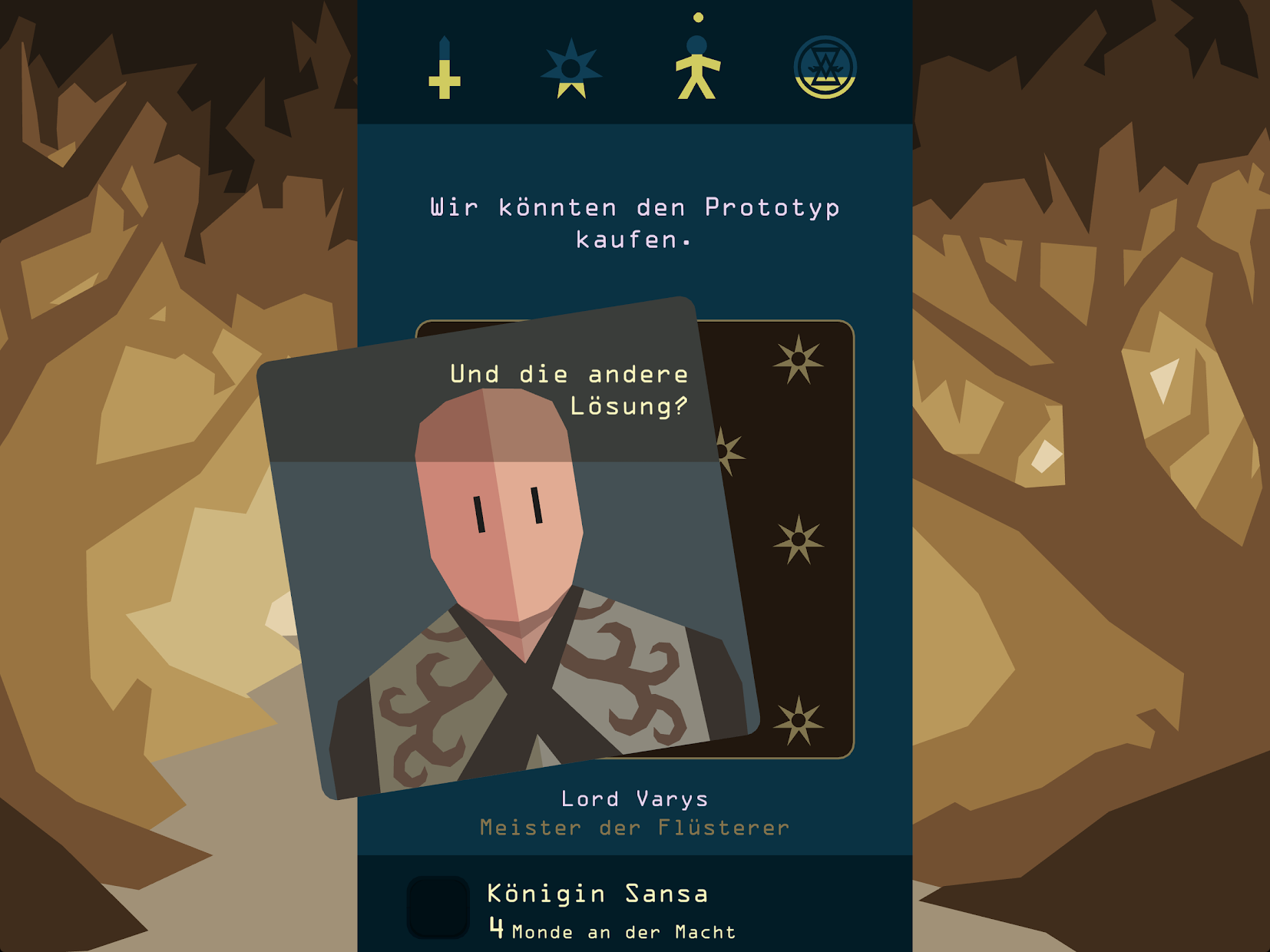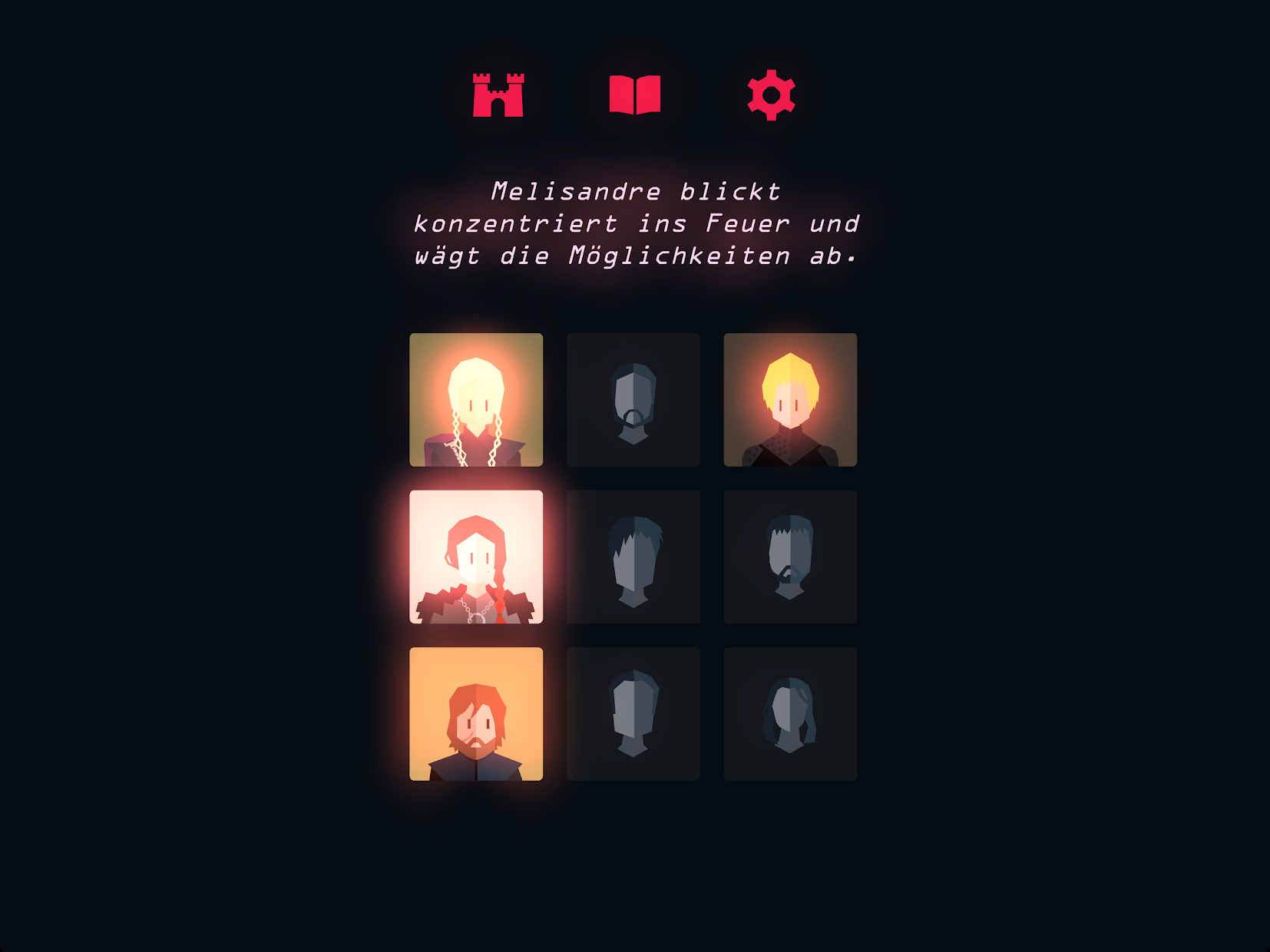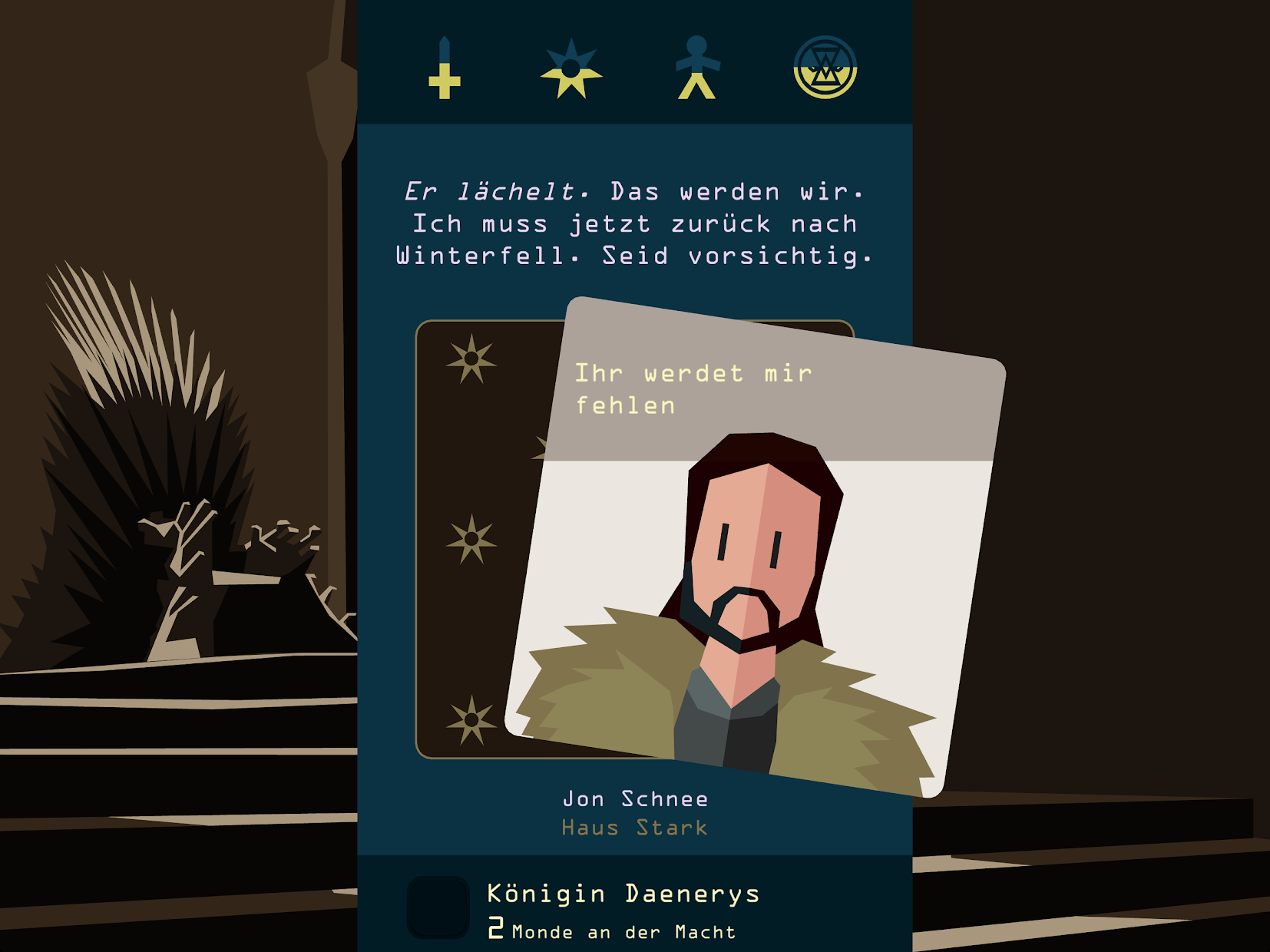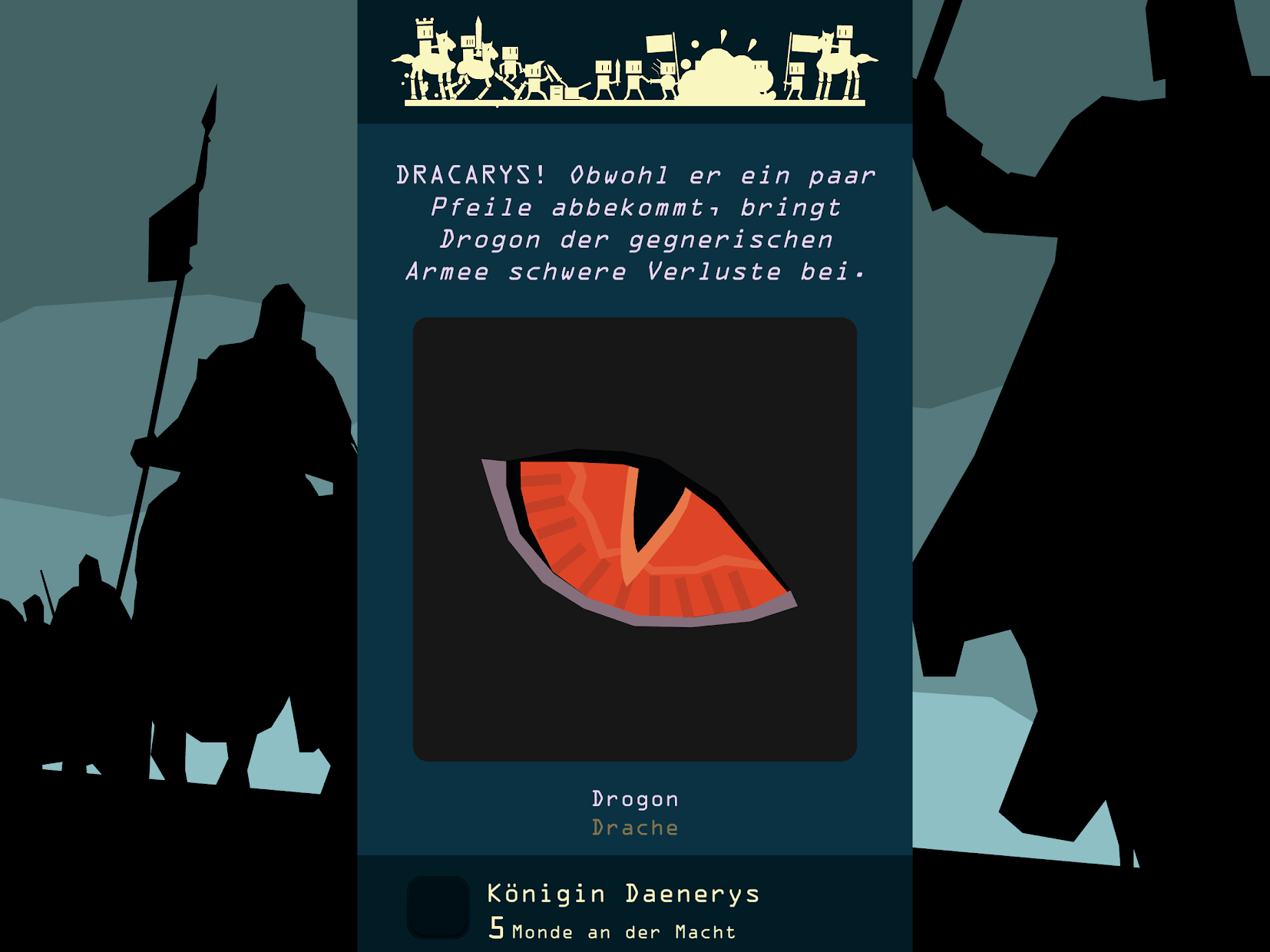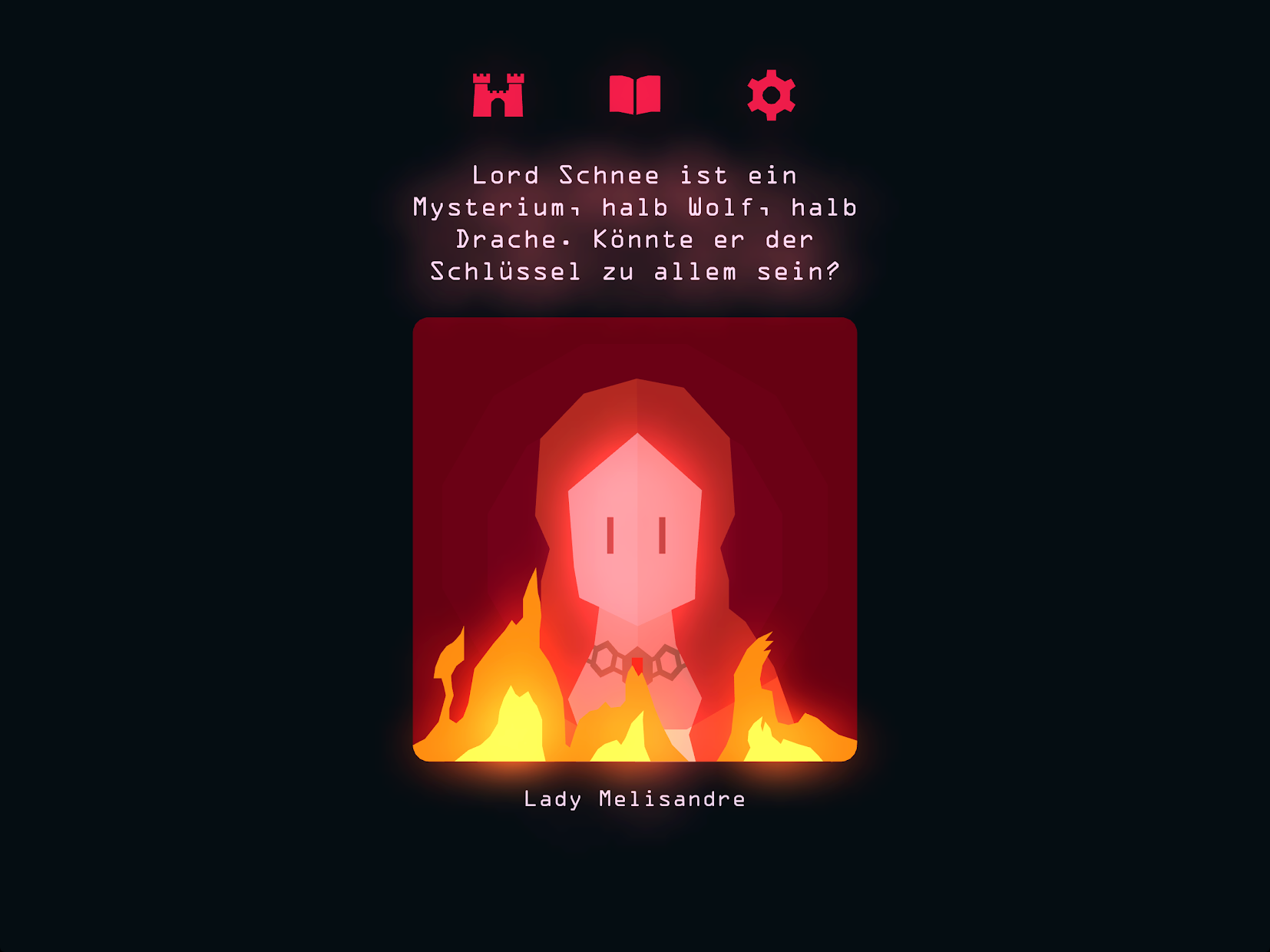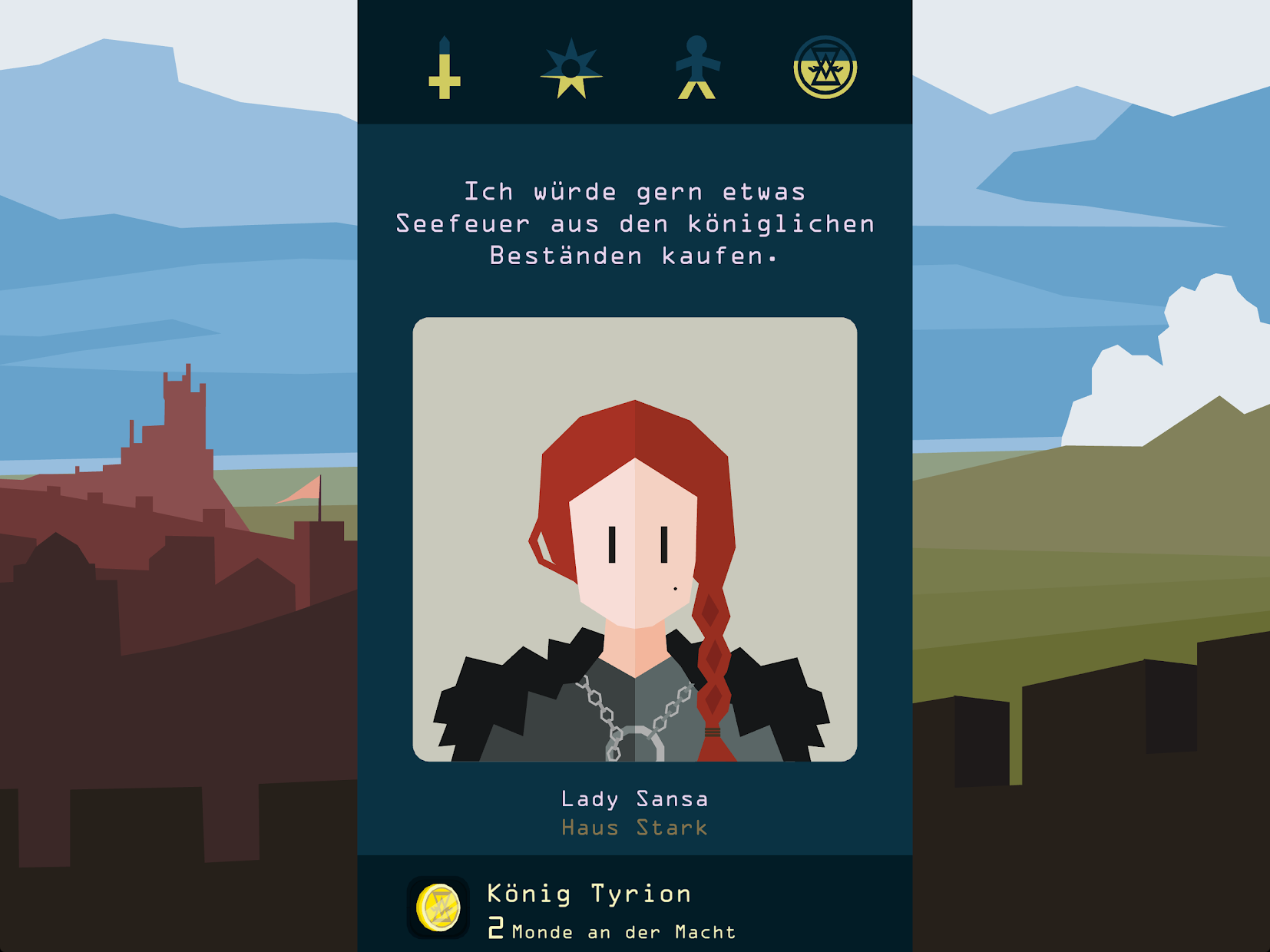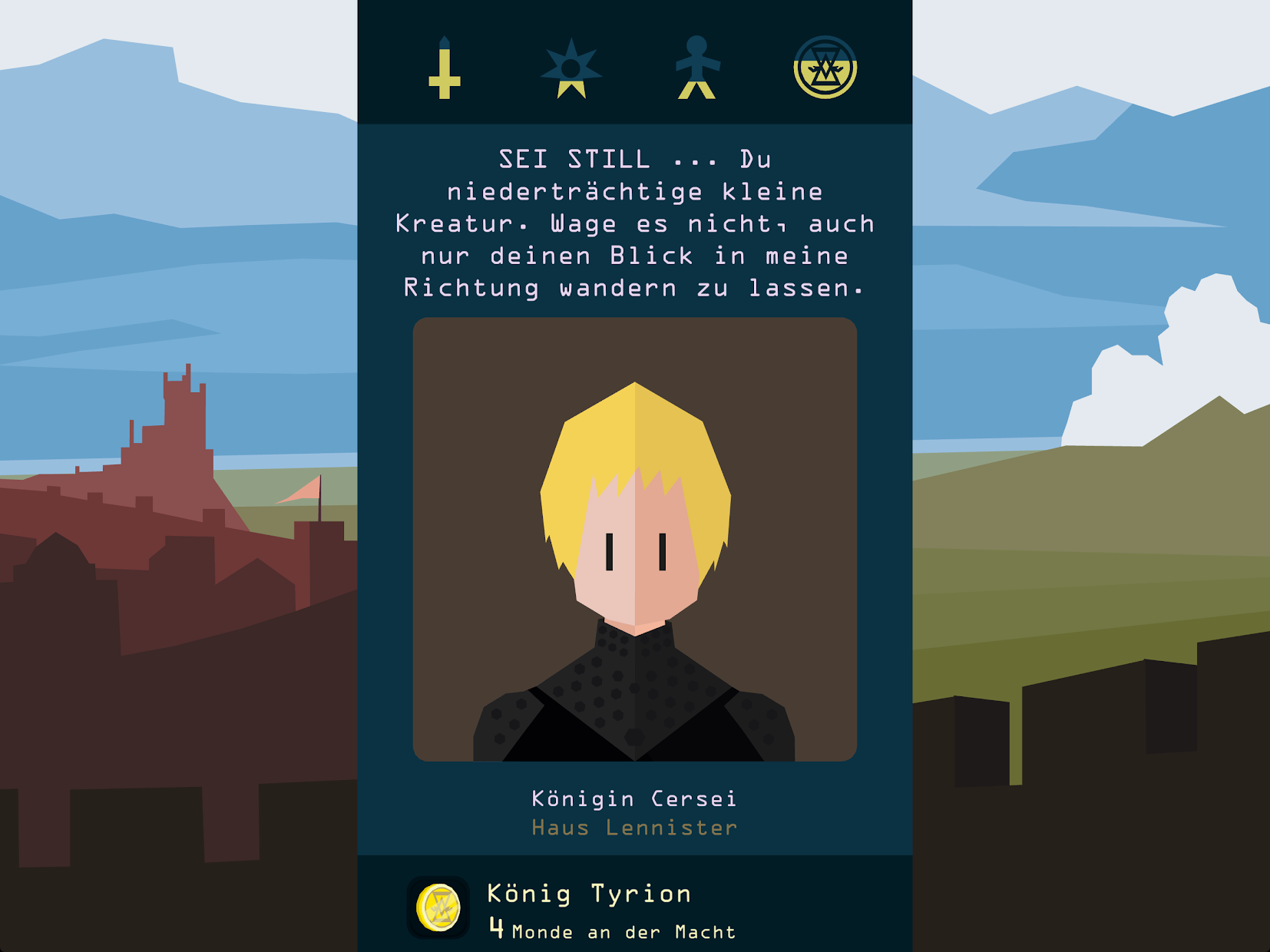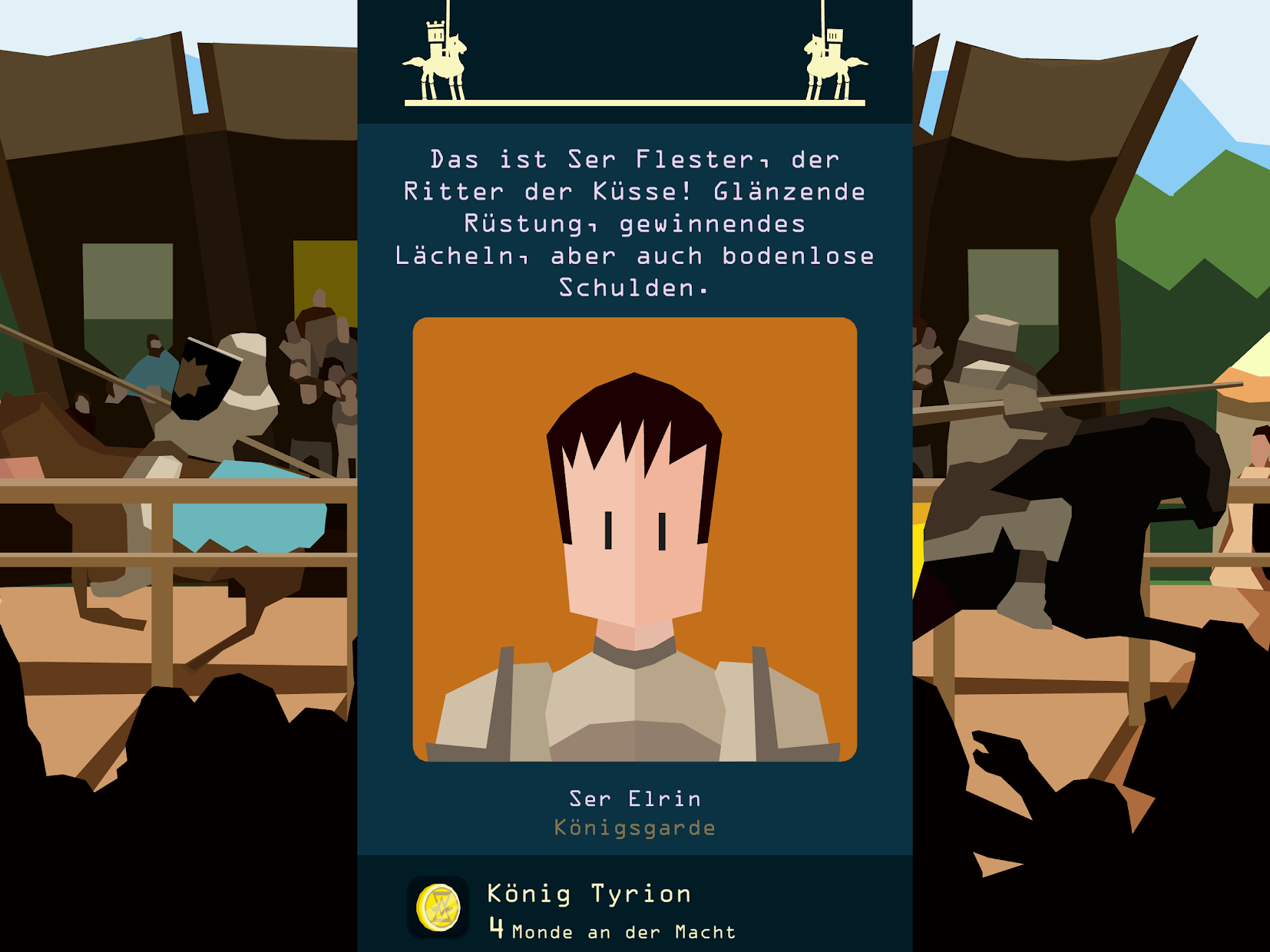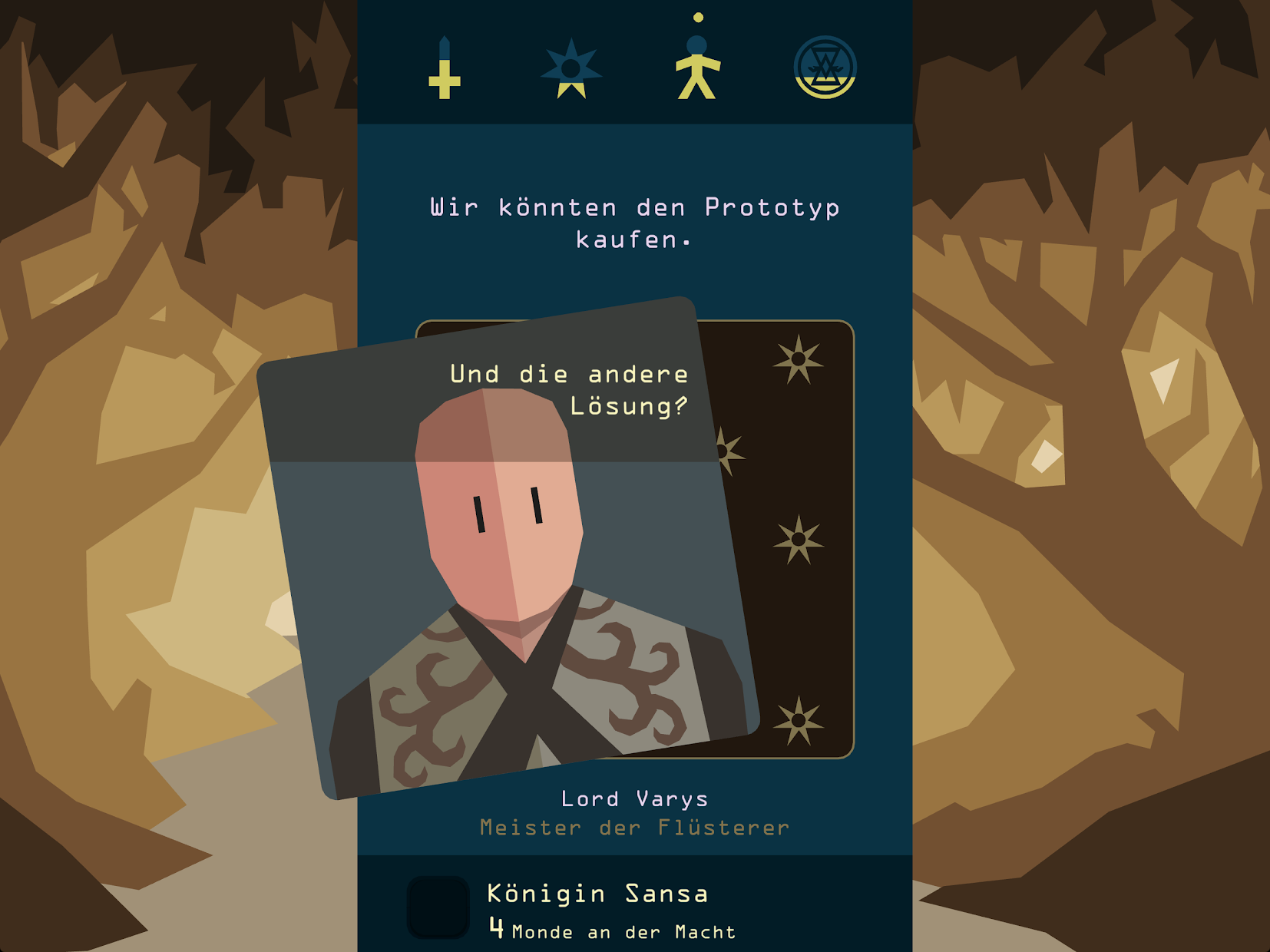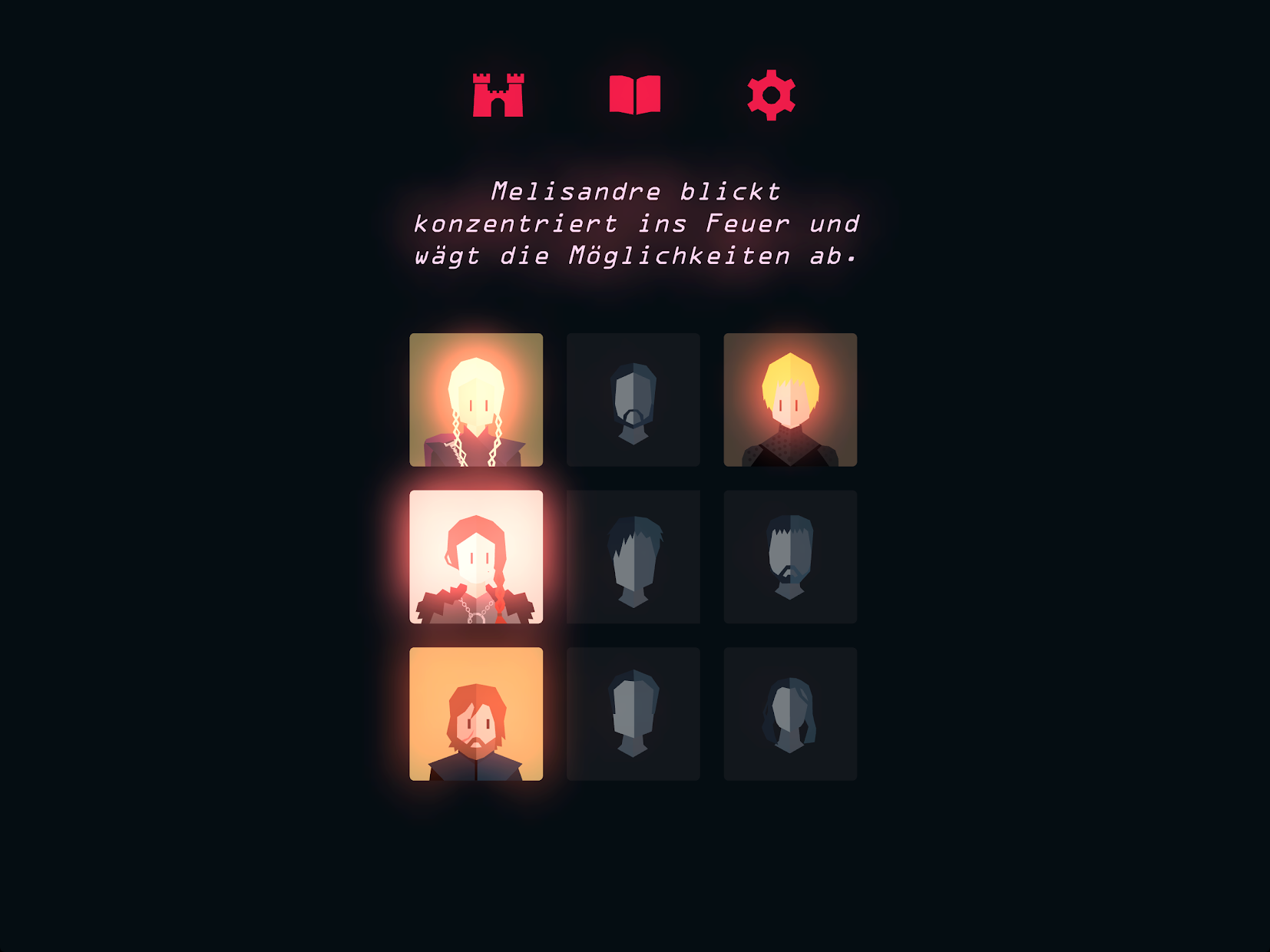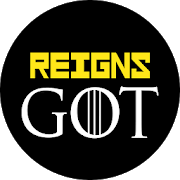 Reigns: Game of Thrones
Reigns: Game of Thrones
Developer: Devolver Digital
More from the same developer More

Devolver Tumble Time

Devolver Tumble Time

Exit the Gungeon

Exit the Gungeon
Reigns: Game of Thrones tritt das Erbe der preisgekrönten HBO-Fernsehserie Game of Thrones und der von Nerial und Devolver Digital entwickelten Kultspiel-Reihe Reigns an. Übernimm durch Melisandres feurige Visionen als Cersei Lennister, Jon Schnee, Daenerys Targaryen und andere den Eisernen Thron. Die vielschichtigen Beziehungen und feindseligen Gruppen der Sieben Königslande erwarten dich. Überliste Rivalen mit skrupelloser Taktik und zeige dich deinen launischen Verbündeten gegenüber unergründlich charmant. Bewahre das Gleichgewicht und sichere dir die Gunst des Volkes, um deine Herrschaft zu verlängern und vielleicht, eines Tages, die Schrecken des kommenden Winters zu überleben.
Beeindruckende Besetzung: Herrsche vom Eisernen Thron aus als Cersei Lennister, Jon Schnee, Daenerys Targaryen, Tyrion Lennister, Sansa Stark und andere. Wechsle zwischen den Königen und Königinnen, die du freischaltest, um dich neuen Herausforderungen und Geheimnissen zu stellen, die es nur in der Geschichte dieses Charakters gibt.
Setze deinen Willen durch: Wische nach links oder rechts, um das Schicksal der Sieben Königslande für immer zu verändern, wenn du mit den inständigen Bitten und unvorhersehbaren Forderungen der Bewohner von Westeros konfrontiert wirst. Erweist sich ein bestimmter Charakter als lästig, zerreiße einfach seine Karte, um von seinen Anliegen verschont zu bleiben – aber zu welchem Preis?
Gestalte Westeros um: Dein Spielfeld sind Melisandres Visionen, und die vielen möglichen Schicksale der Thronanwärter reichen weit über die Fernsehserie hinaus. Baue die Große Septe von Baelor als Cersei wieder auf oder erkunde den Weg der Sieben Königslande, wenn Sansa Stark Jaime Lennister geheiratet hätte.
Majestätische Minispiele: Selbst die mächtigsten Herrscher müssen gelegentlich ihre Sorgen beiseiteschieben und an belangloseren Angelegenheiten teilnehmen. Vom Lanzenstechen bis zur Tavernenschlägerei haben all diese Zeitvertreibe ihre Konsequenzen!
Ein prächtigeres Reigns: Fans der Reigns-Reihe dürfen sich auf den größten und tiefgründigsten Neuzugang der Reihe freuen. Darin werden nicht einfach die Geschichten, die du schon kennst, neu erzählt, sondern du kannst nach Lust und Laune neue Abenteuer erleben.
Kultiger Soundtrack: Entscheide zur mitreißenden Musik der HBO-Serie von Ramin Djawadi über das Schicksal von Westeros und seiner Bewohner.
2018 Home Box Office, Inc. Alle Rechte vorbehalten. HBO und zugehörige Marken sind Eigentum von Home Box Office, Inc.
Loading...